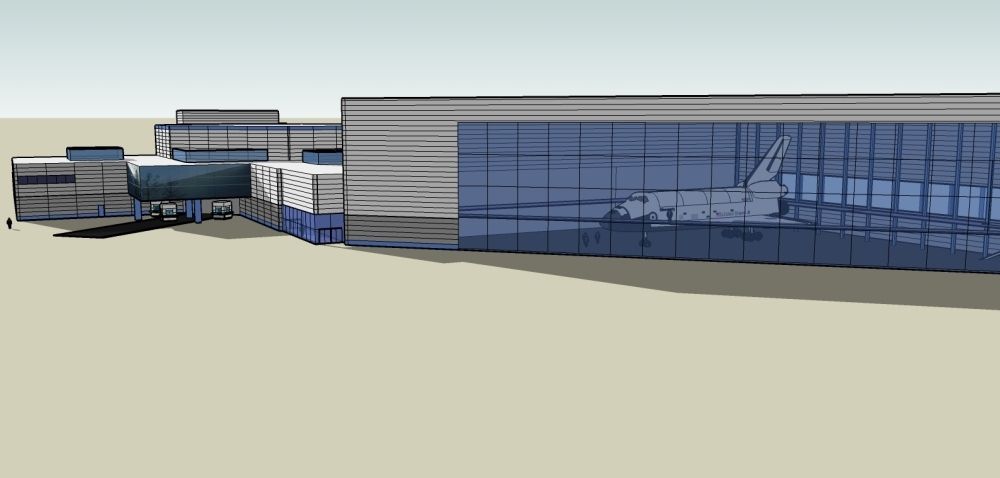 Space Center Houston's losing proposal to house a Shuttle orbiter. Image source: Space Center Houston.
It's been more than three months since
NASA announced the three museums that will receive retired Space Shuttle orbiters
.
The losing applicants, Houston in particular,
threatened various acts of retaliation
in the days after the announcement. Most of those threats seem to have evaporated, but that hasn't stopped some people in Houston from continuing to peddle the canard that they didn't receive an orbiter because of political retaliation from the White House.
Above is the concept submitted by
Space Center Houston
, the non-profit that submitted the proposal. The three-sided building would be built next to the existing structure on the left.
No other illustration is available on their proposal's web site, which is called
BringTheShuttleHome.com
. That's a rather curious name for the site, considering the Shuttle was never based in Houston.
Compare the above concept to those of the winners, courtesy of
CollectSpace.com
: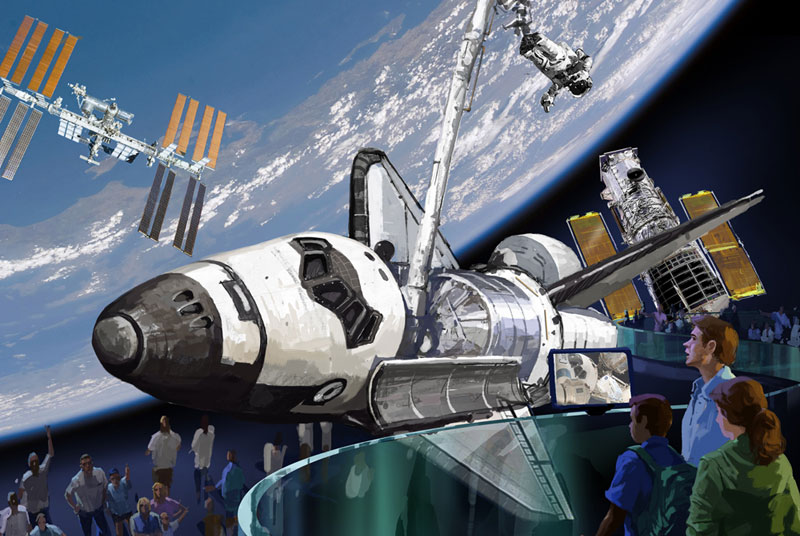 The future Atlantis display at the Kennedy Space Center Visitor Complex.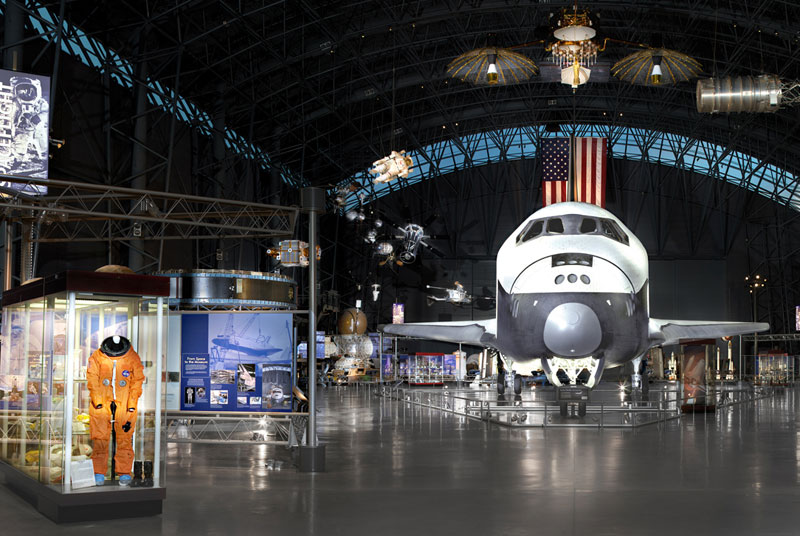 The National Air and Space Museum's Udvar-Hazy Center at Dulles International Airport in Washington, D.C.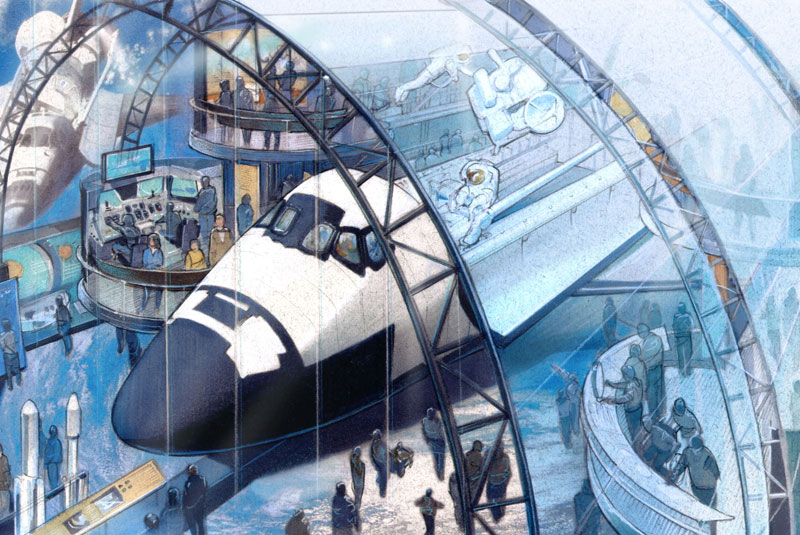 The U.S.S. Intrepid Sea, Air and Space Museum in New York City.
I haven't been able to locate an image of the
California Science Center
proposal; please let me know if you can find one.
In any case, in my subjective opinion, it's clear that Houston's proposal was lacking detail and creativity. The site offers no clue how they would fund this project other than this paragraph:
To lead the charge, Space Center Houston's Board of Directors formed a space tourism subcommittee comprised of elite Houston-area business leaders. This distinguished group will handle relocation requirements, manage a capital campaign and oversee the project should the Center be a selected Shuttle site.
In the days after the announcement, various commentators opined on why Houston didn't receive an orbiter.
Wayne Hale was the Space Shuttle program manager at Johnson Space Center in Houston.
Hale wrote on April 14
:
Houston didn't get an orbiter because Houston didn't deserve it ...

Houston is blasé about the shuttles. Houston and Texas have come to regard NASA and JSC as entitlements. We deserve JSC and the shuttle just because of who we are ...

No disrespect to those who spearheaded the effort to bring the shuttle here, but the response was lackluster. The local politicians gave lip service, some weak letters to the NASA administrator and little else. We got a limp editorial or two in the local newspaper. The movers and shakers downtown barely lifted a finger. Its hard to tell if Austin and the Texas Legislature even knew what was happening. A rally at city hall was poorly attended, too little, too late, and totally ineffective.
An April 15 guest editorial in the Houston Chronicle
by "space employee" Michael Grabois commented:
I was as mad as the next guy until I heard multiple people at both parties discussing possible reasons why. The general consensus was that NASA didn't screw over JSC and Houston, you have to blame Space Center Houston and the City of Houston itself instead ...

If Houston did not get an orbiter, it's because the Space Center Houston bid was not considered good enough. That includes two important factors: facilities and tourism. With limited number of other space artifacts to be distributed (engines, simulators, mockups, etc.), according to the rules made available at the time, the museum had to bid on those too. If Houston did not get a simulator, it's because either the Space Center Houston bid was sub-par or they didn't bid on the item at all. See a pattern developing here? Maybe someone assumed that Houston would automatically get something because it's right next to JSC. But Space Center Houston is a separate entity that does not automatically get JSC's hand-me-downs. How bad could their bid have been that they didn't get anything except a pair of seats?
Three months later, one would think that the whining would have died down, but not in Houston.
On July 13, Houston-area Rep. Pete Olson
issued a press release
announcing he had teamed with Ohio congressman Steve Austria to include language in the Fiscal Year 2012 federal budget that "directs NASA to keep Congress apprised of the status of plans to both transfer and display the four Space Shuttle orbiters (Atlantis, Enterprise, Discovery and Endeavour) as well as provide contingency plans if the host cities fail to meet specific criteria and agreed upon milestones."
(Austria's district includes the U.S. Air Force Museum, which also lost out.)
Olson quotes himself:
"Taxpayers have a right to know that the cities that are to receive orbiters will fully meet their financial obligations," Rep. Olson said. "If they don't meet those obligations, Congress will hold them accountable and consider alternate options. This is common sense at a time when the federal government is facing record debt. There are other qualified cities that would gladly absorb the cost of hosting an orbiter, so we are putting the recipients of the orbiters and NASA on notice, Congress is watching."
On July 19,
a Houston Chronicle editorial
falsely claimed, "For the first time in more than 50 years, the United States of America will not have the capability of launching American astronauts into space."
The editorial writer conveniently overlooked the 1970s. It was more than eight years between the final moon mission Apollo 17 (launched on December 7, 1972) and the first Space Shuttle test flight (April 12, 1981). The Skylab and Apollo-Soyuz missions were flown with leftover equipment from the Apollo era. Even if you count those missions, it was nearly six years from Apollo-Soyuz in July 1975 until STS-1 in April 1981.
The editorial also failed to mention why this gap exists —
it was all decided in January 2004 by the administration of President George W. Bush
, now a Houston-area resident
. Bush's parents live in the Houston area.
The Bush administration planned to retire Shuttle in 2010 once International Space Station construction was completed. The United States would then fly on Russian Soyuz systems until at least 2014, when the Constellation program's Ares I was expected to be ready. An independent review in 2009 found that Ares I was running several years behind, which is one reason why it was cancelled and replaced by Commercial Crew Development.
NASA Administrator Charles Bolden said in recent interviews that he anticipates issuing a formal CCDev request for bid in 2012, with manned flights by 2015 — at least two years before Ares I would have been ready.
None of that was mentioned by the Chronicle either.
Houston, you have a problem. The problem is you. Get over yourself. The American space flight program does not exist for your benefit. It's the other way around.
By the way ... Visit the
Space Center Houston
web site. Their big promotion is something called "Summer Sports Slam." What that has to do with space exploration is unexplained. But perhaps it does explain why their bid lost.