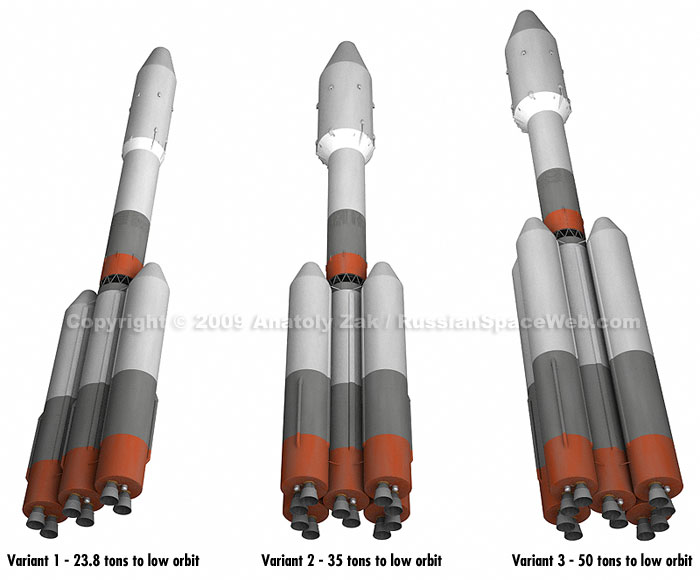 The Rus-M family of rockets. Image source: RussianSpaceWeb.com.
Space Coast congressional representatives
Sandy Adams
and
Bill Posey
are fond of claiming that President Obama has ceded U.S. space leadership to Russia.
More evidence is in that they're wrong.
Spaceflight Now reports
that Russia will abandon efforts to upgrade its Soyuz rocket.
Russia is halting development of a next-generation rocket to launch humans into space, the head of Roscosmos told Russian lawmakers in a speech Friday.

The Rus-M rocket, a liquid-fueled rocket designed to launch from Russian territory, was supposed to begin flying as soon as 2015, according to earlier statements by Russian prime minister Vladimir Putin.

"We have come to the conclusion that we do not need a new rocket, we can continue using those we already have," said Vladimir Popovkin, head of Russia's space agency, according to the Novosti news agency.
Last April,
retired cosmonaut Svetlana Savitskaya
said the Russian space program has "nothing new to be proud of in the last 20 years" and lamented that "Russia has done virtually nothing to design a replacement to the 43-year old Soyuz spacecraft."
And in recent months,
Russia has suffered a series of space setbacks
, culminating with the loss of a Progress cargo vehicle August 24 and the Soyuz TMA-21 crew ship re-entering the atmosphere September 15 after losing communications.
While Russia fails to upgrade its technology, the United States is
developing 21st Century commercial transportation spacecraft
and begun
design of a heavy-lift vehicle intended to send humans on deep space explorations
.
So much for ceding leadership.
I have to wonder how Adams and Posey think it will help attract international customers to fly on U.S. spacecraft by telling the world that Russia, China and India have superior technlogy.