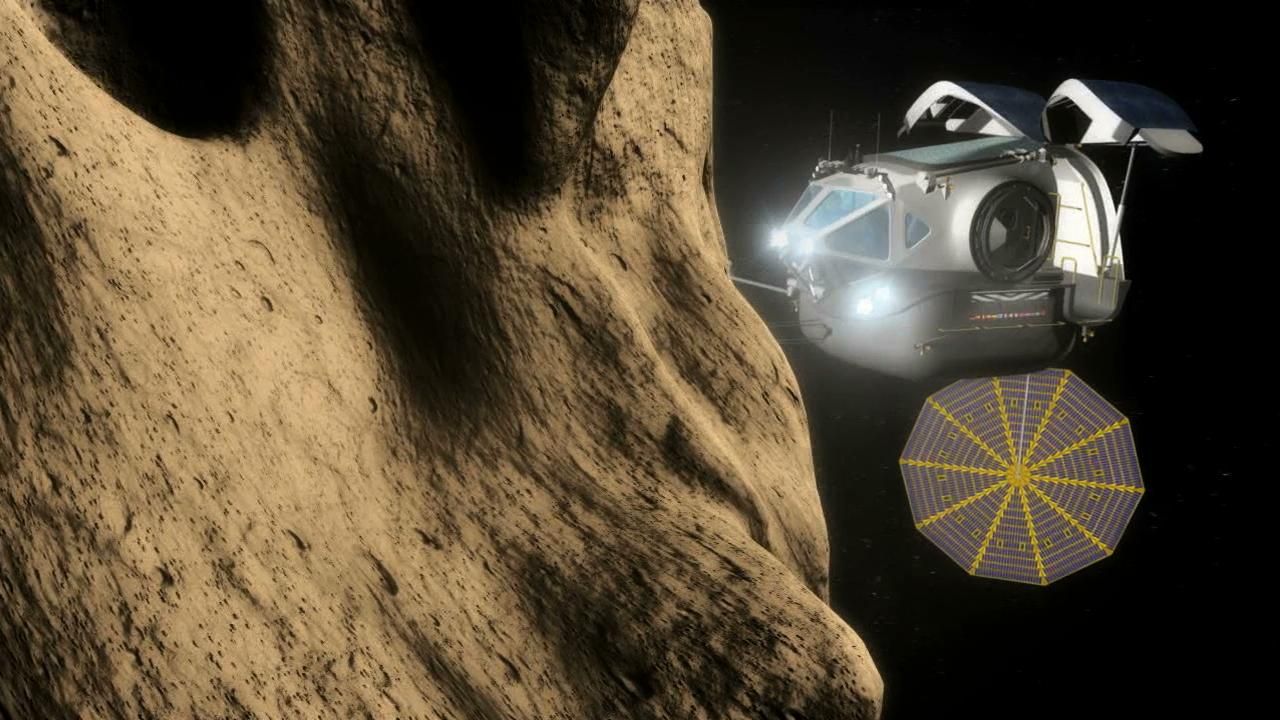 An artist's concept of the Space Exploration Vehicle at an asteroid. Image Source: NASA.
Lending credence to a story that appeared on the Aviation Week web site on March 28, U.S. Senator Bill Nelson (D-FL) told reporters today he'd been briefed on a NASA proposal to be unveiled next week that could send astronauts to a captured asteroid by 2021.
According to a story posted this afternoon by Florida Today space reporter James Dean:
NASA hopes to start work on a mission that could send astronauts to an asteroid within eight years, U.S. Sen. Bill Nelson said today.
Nelson, who heads the Senate subcommittee that authorizes NASA programs, said the "audacious" plan calls for a robotic spacecraft to capture an asteroid and tow it to a stable orbit around the moon.
Flying in an Orion capsule launched from Kennedy Space Center atop the massive Space Launch System rocket, astronauts would then have a "unique, meaningful and affordable" destination for the next decade, Nelson said.
The space agency could use the asteroid to study mining, ways to deflect the space rocks if they threatened Earth and technologies that might apply to a manned mission to Mars.
"It's really a clever concept," Nelson said. "This is one of the building blocks of a human mission to Mars."
---
UPDATE April 6, 2013 — Senator Nelson's web site issued this statement Friday about the asteroid proposal.
In a nutshell, the plan in NASA's hands calls for catching an asteroid with a robotic spacecraft and towing it back toward Earth, where it would then be placed in a stable orbit around the moon.
Next, astronauts aboard America's Orion capsule, powered into space by a new monster rocket, would travel to the asteroid where there could be mining activities, research into ways of deflecting an asteroid from striking Earth, and testing to develop technology for a trip to deep space and Mars.
---
In March 2012, NASA posted to its web site a video showing a Space Exploration Vehicle concept being used to test a three-day "campout" at an asteroid.
For now, it appears the proposal next week will be simply to request Congress for $100 million to develop the feasibility study, which would suggest that NASA would return to Congress once it was completed to ask for a funding commitment for the entire mission.
When NASA Administrator Charlie Bolden appeared before the House Appropriations Committee on March 20, he mentioned in passing that he hoped to ask Congress to approve funding for moving up the Space Launch System's first human test flight from 2021 to 2019. This report suggests that's because he wants the human flight to the captured asteroid in 2021.
The timing also raises the question of NASA's intentions for the International Space Station after the end of the decade. The existing agreements with the partnership nations expire in 2020.
Earlier in the day, the Russian news agency RIA Novosti reported that Roscosmos would be willing to join NASA in an asteroid mission.
Russia's space agency Roscosmos may join NASA's ambitious mission to capture an asteroid and place it in high lunar orbit for exploration, Roscosmos head Vladimir Popovkin said.
"[It is] a very interesting project, which NASA proposes to carry out jointly with Roscosmos specialists," Popovkin said in an interview with Rossiiskaya Gazeta newspaper to be published on Friday.
"We could send a manned expedition to explore the asteroid or study it with probes," he said.
More on the story as it develops. Articles posted online so far:
Associated Press "Senator: NASA to Lasso Asteroid, Bring It Closer"
CBS News "NASA Mulls Asteroid Capture Mission, Eventual Manned Visits"
Central Florida News 13 "Sen. Bill Nelson Reveals NASA's Plan to Catch an Asteroid"
Florida Today " NASA Wants to Lasso Asteroid, Tow It Home"
The Guardian "NASA Plans Asteroid Rodeo to Lasso 25ft Space Rock for Research"
NBC News "Administration Confirms NASA Plan: Grab an Asteroid, Then Focus on Mars"
Orlando Sentinel "Space Cowboys: NASA's Newest Project Aims at Corralling Asteroid"
Orlando Sentinel "NASA's Plan to Lasso Asteroid Originated with Italian Student"
Scientific American "NASA Getting into the Asteroid-Moving Business"
Space.com " NASA to Get $100 Million for Asteroid-Capture Mission, Senator Says"
SpaceFlightNow.com "NASA's Proposed Asteroid Retrieval Mission Outlined"