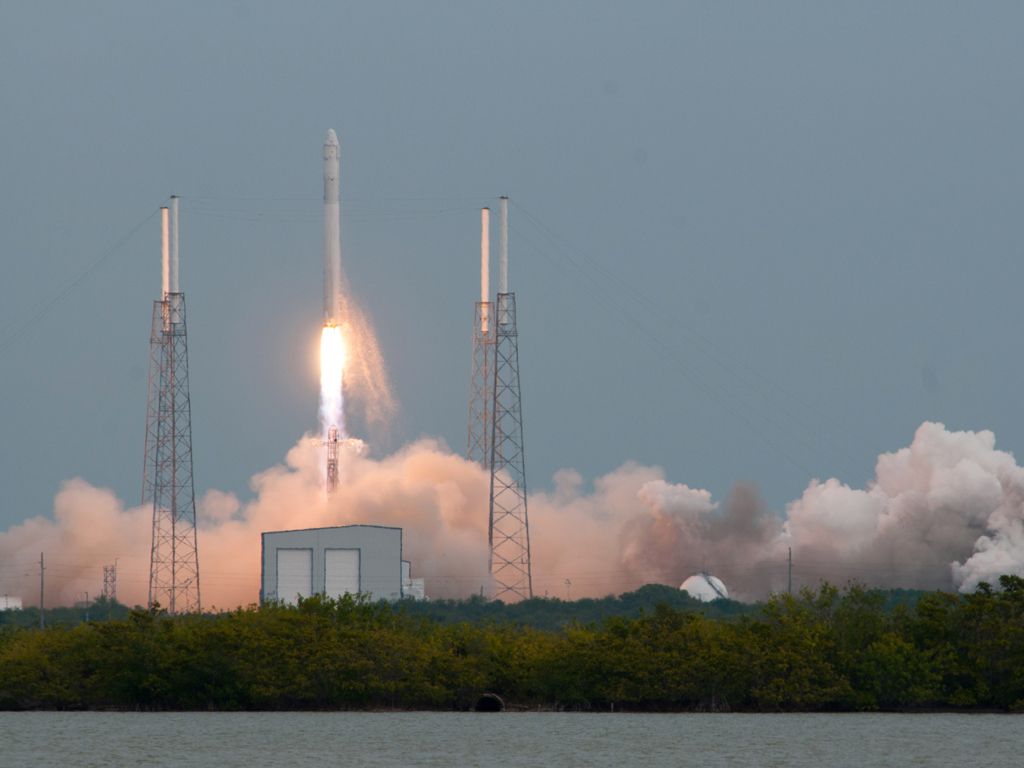 The SpaceX CRS-2 mission launches from Cape Canaveral's Launch Complex 40 on March 1, 2013. Image source: SpaceX.
A big tip of the hat to the Florida Space Development Council for this find.
Posted on the Federal Business Opportunities web site FedBizOpps.gov is an invitation to attend a public forum in Colorado Springs "to discuss a potential future concept to convert the Eastern Range (in part or whole) and Cape Canaveral Air Force Station (CCAFS) from an Air Force managed range to an FAA-licensed commercial launch site (i.e., a spaceport)."
The concept explores an approach where launch programs (U.S, commercial, civil, and national security space sector launch and test and evaluation (T&E) programs) contract for support services as needed for their missions from an FAA-licensed commercial launch site operator that manages the transportation and utility infrastructure, support services, and range capabilities as a business. This effort is directed by AFSPC Commander as part of a larger Range Capabilities Based Assessment (CBA).
AFSPC is the Air Force Space Command.
The invitation states, "Of significant interest to HQ AFSPC is commercial industry input into the business strategy and execution of this concept." One-on-one conversations "with interested commercial companies" are offered on Day 2 of the event.
The implications, obviously, are staggering.
It might also render moot the proposal to transfer NASA property near Shiloh to Space Florida so that it can be used for commercial launches. The proposal arose to help commercial companies such as SpaceX and Blue Origin avoid duplication of oversight for launches of commercial payloads, as launches from CCAFS launch pads require both FAA and 45th Space Wing approval. If the FAA takes over the Eastern Range, then this might eliminate the duplication driving the Shiloh debate.
The address in Colorado Springs belongs to Booz Allen Hamilton, which provides management and technology consulting for both government and business clients. Their web site discusses how they provide services to defense space agencies.
In tangential news, Air Force Times reported on July 10 that a USAF chief scientist believes the service should emulate SpaceX in its acquisition strategies.
The Air Force's current acquisition process is incapable of producing innovative systems quickly and affordably, former Air Force Chief Scientist Mark Maybury said in a June 21 report called "Global Horizons: United States Air Force Global Science and Technology Vision." And the increasing complexity of integrating advanced technology into aircraft such as the F-35 will likely further slow the development process in the future. This "threaten[s] to erode the current decisive technology advantage" the Air Force now enjoys over its adversaries, Maybury said. He retired June 28.
Maybury said the Air Force needs to emulate the rapid prototyping processes used by SpaceX and Scaled Composites, which he said produce aerospace vehicles 50 percent faster than under traditional acquisitions. SpaceX produced the Dragon capsule, which last year became the first commercial vehicle to dock with and deliver supplies to the International Space Station, and Scaled Composites won the Ansari X-Prize for its SpaceShipOne, the first private manned spacecraft.
---
UPDATE July 14, 2013 — Florida Today reports details on the proposed privatization of CCAFS.
Meetings this week will explore a major change to that historic role, studying the possibility of privatizing some or all operations at Cape Canaveral Air Force Station and the Eastern Range, "the nation's premier gateway to space."
Under a preliminary concept to be discussed in a public forum Thursday and Friday in Colorado Springs, responsibilities now handled by the 45th Space Wing would be turned over to a spaceport operator approved by the Federal Aviation Administration.
The article notes that "budget pressures and increasing commercialization of launch activity are driving the Department of Defense to consider the concept seriously, though ideas have been discussed for years."