Click the arrow to watch the COTS press conference on YouTube. Video source: NASA.
When I saw the Olympic torch on its first spacewalk in history this past Saturday, I was reminded of NASA's 50-plus years as the world's undisputed leader in space exploration. Today, we have more evidence of that leadership. After more than 10 years of hard work, milestones and successes, NASA's Commercial Orbital Transportation Services (COTS) program is passing the torch.
NASA Administrator Charles Bolden
"Commercial Space Program Keeps Flame of Exploration Burning"
November 13, 2013
Out of the ashes of Columbia have arisen two 21st Century spacecraft that fulfill the original intent of the Space Shuttle program — to build and operate an international space station with a full-time crew working in Earth orbit.
Today's media event at NASA Headquarters in Washington, D.C. marked the formal end of the Commercial Orbital Transportation Services (COTS) program. It now evolves into Commercial Resupply Services, with SpaceX and Orbital Sciences delivering cargo to the ISS under fixed-price contracts.
I wrote last March about the origins of today's commercial space program. Although there was an effort in the 1980s during the Reagan administration to commercialize space, that ended after the loss of Challenger on January 27, 1986. NASA didn't want to lose any more civilians, so commercial payloads with civilian specialists were phased out.
It took the loss of Columbia on February 1, 2003 to prod Congress and the NASA bureaucracy into reconsidering NASA's business model. Buried in the Bush administration's Vision for Space Exploration sent to Congress in February 2004 was a proposal to "pursue commercial opportunities for providing transportation and other services supporting the International Space Station and exploration missions beyond low Earth orbit."
President Bush appointed a Commission on Moon, Mars and Beyond that issued a report in June 2004. An entire chapter of the report was devoted to what today is often called NewSpace. The chapter was titled, "Building a Robust Space Industry." The commission noted, "It is the stated policy of the act creating and enabling NASA that it encourage and nurture private sector space." They cited a NASA program called the Centennial Challenge that gives cash prizes for "advancement of space or aeronautical technologies," and suggested that "NASA should expand its Centennial prize program to encourage entrepreneurs and risk-takers to undertake major space missions."
On November 7, 2005, NASA opened the Commercial Crew/Cargo Project Office "to spur private industry to provide cost-effective access to low-Earth orbit and the international space station in support of the Vision for Space Exploration." Alan Lindenmoyer, an ISS technical integration manager, was named project manager.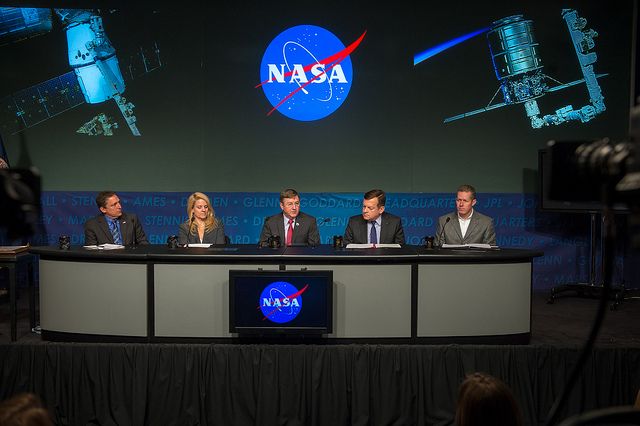 Participants in today's event. Left to right: Alan Lindenmoyer of NASA, Gwynne Shotwell of SpaceX, Frank Culbertson of Orbital Sciences, Frank Slazer of the Aerospace Industries Association, and Phil McAlister of NASA. Image source: NASA.
Eight years and six days later, Lindenmoyer was one of the participants in today's media event to celebrate the successful completion of the COTS phase of the program. Along with Gwynne Shotwell from SpaceX and Frank Culbertson from Orbital Sciences, they received awards from NASA Administrator Charles Bolden formally acknowledging their achievements.
Shotwell said that of the $850 million spent on developing the SpaceX Falcon 9 rocket and Dragon capsule, $454 million came from SpaceX investment while $396 million came from NASA. Compare that to the roughly $500-800 million spent on one Space Shuttle mission. The SpaceX Commercial Resupply Services contract for twelve deliveries totals $1.6 billion, or about $133 million per flight. Unlike the Shuttle, the Dragon is a robotic spacecraft that does not require a crew. It can return samples, experiments, and parts from the ISS. Theoretically reusable, SpaceX hopes to evolve the Dragon into a crew delivery vehicle within three years. Abort tests of the crewed Dragon are scheduled for next year at Cape Canaveral Air Force Station.
Culbertson did not disclose how much Orbital Sciences spent on the Antares rocket and Cygnus capsule. Unlike Dragon, Cygnus burns up on re-entry.
The event celebrated not only the achievements of the past, but the possibilities for the future.
The immediate concern is to complete cargo's sibling commercial crew program. Although commercial crew was on paper during the Bush administration, it was the Obama administration that funded commerical crew and made it a priority. According to today's press release:
On Nov. 19, the agency will issue a final Request for Proposals for the new Commercial Crew Transportation Capability (CCTCap) contract, designed to ensure commercial companies meet NASA's safety requirements for transporting NASA crews to the space station. This procurement phase is expected to include crewed demonstration missions to the space station before 2017.
The timing of the procurement and demonstration flights depends heavily on Congress' willingness to fund the program. Congress has cut the Obama administration's commercial crew funding requests by roughly 40% over the last three years. For Fiscal Year 2014, the Obama administration requested $821 million. According to Space Politics, the Democratic Senate version appropriates $775 million, while the Republican House version offers only $500 million. The bipartisan cuts in earlier years forced NASA to sign an extension of its current deal to fly American astronauts on Russian Soyuz capsules for another one to two years, roughly through 2017.
---
UPDATE November 14, 2013 — NASA's Office of the Inspector General issued a report yesterday titled, "NASA's Management of the Commercial Crew Program." It stated that Congressional underfunding was even worse than I wrote in the above paragraph:
The Program received only 38 percent of its originally requested funding for FYs 2011 through 2013, bringing the current aggregate budget shortfall to $1.1 billion when comparing funding requested to funding received. As a result, NASA has delayed the first crewed mission to the ISS from FY 2015 to at least FY 2017. For FY 2013, Commercial Crew Program managers had already expected less than the requested $830 million and based their planning on a funding level of $525 million. The combination of a future flat-funding profile and lower-than-expected levels of funding over the past 3 years may delay the first crewed launch beyond 2017 and closer to 2020, the current expected end of the operational life of the ISS.
It should be noted that NASA and its partners expect the ISS to be functional through at least 2028. The partnership agreements expire in 2020. NASA and its partners are talking informally about extending their agreements, and some NASA executives have speculated about a COTS-like program for ISS in the 2020s where the private sector takes over U.S. interests.
---
Both Shotwell and Culbertson highlighted a byproduct of COTS the 2004 commission envisioned. SpaceX is about to launch a commercial satellite from Cape Canaveral, the first commercial payload from the Cape since 2009. Commercial customers went elsewhere in recent decades because other nations offered cheaper alternatives. The COTS model has brought that business back to the U.S., and Culbertson said that Orbital is talking with both government and commercial customers for potential Antares launches.
The Orbital Sciences Cygnus berthed last month at the International Space Station. Image source: Orbital Sciences.
Lindenmoyer foresees a future where the COTS model could change NASA's relationship with the private sector.
I think it every important that NASA pave the way. NASA breaks through the challenges of the new technologies that are required to explore outside of Earth's boundaries and low Earth orbit, and then going deeper and deeper into space, to the Moon and beyond. So NASA is a governmental effort to tackle those new technologies, then turn it over to industry, who is set up to operate these systems in a more cost-effective manner. That's just a natural fit. So I think that's a very important part of the model, for NASA and the government to blaze the trail, and then turn it over for operation of any existing technology.
Lindemoyer said that in July NASA sent out a request soliciting industry for ideas how the model could be extended to other projects. He indicated that among the many responses were ideas for lunar missions, communications systems, propellant systems, and launch systems.
In combination with this week's Space Launch System and Bigelow commercial cislunar events, in my opinion it's clear that the United States as a spacefaring nation has embarked on its most meaningful decade of human space flight since President John F. Kennedy proposed on May 25, 1961 that the U.S. place a man on the Moon by the end of the decade and return him safely to the Earth. Four months earlier, during his inaugural address, Kennedy spoke words that had a different context but I'm reminded of them today:
We dare not forget today that we are the heirs of that first revolution. Let the word go forth from this time and place, to friend and foe alike, that the torch has been passed to a new generation of Americans.
That torch will be carried by the science, technology, engineering and mathematics students this decade coming out of American colleges and universities. They are the ones who will benefit from a NASA soon freed of political intrigue and congressional porkery, freed to return to its 1958 roots. NASA can become a crucible of cutting-edge technology that will give birth to an entirely new economy based on permanent human access to space by the private sector.
Quoting again Kennedy, the glow from that fire can truly light the world.