Click here to watch video of the Boeing event. You may be subjected to an ad first.
Florida Today reports on today's Boeing CST-100 media event at Kennedy Space Center.
The event appears to have been rather spartan compared to the SpaceX Dragon V2 unveiling May 29 in Los Angeles.
Florida Today space reporter James Dean wrote:
Boeing's formal presentation contrasted with the party-like atmosphere when SpaceX CEO Elon Musk recently unveiled Dragon Version 2 to a cheering crowd at the company's Southern California headquarters, shown via Webcast.
And unlike SpaceX, Boeing takes pride in the CST-100's use of proven rather than new technologies. Whereas the Dragon plans to use a futuristic precision powered landing system, the CST-100 will land on airbags.
It appears that Boeing is using the same OldSpace argument that joint venture United Launch Alliance uses to argue in favor of Atlas V and Delta IV instead of NewSpace SpaceX products — we've been around a long time, so go with proven technology and don't look for innovation.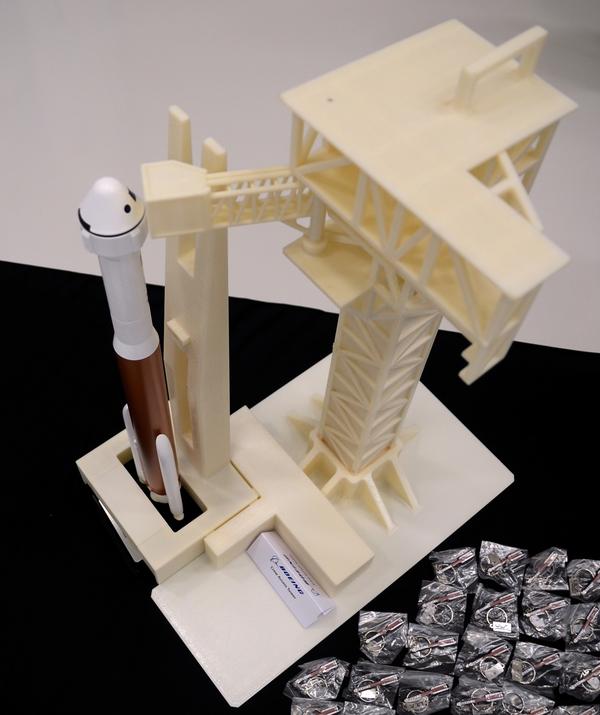 A scale model of the CST-100 atop an retrofitted Atlas V launch system at the Cape's Launch Complex 41. Note the new crew-specific service tower. Image source: Orlando Business Journal.
Unlike SpaceX, which is investing in the future regardless of the commercial crew selection, Boeing representatives implied that further commercial crew activities at KSC by the company depend on their receiving a NASA award late this summer.
According to the Orlando Sentinel:
"If we are selected, we have a transition plan that would take effect immediately to move workers from Houston, Huntington Beach [Calif.] and other places," said John Elbon, Boeing's vice president for space exploration. "We'll staff up significantly by early 2015, and that is going to make for a really nice impact for the Space Coast."
WMFE 90.7 FM quoted Mr. Elbon as saying that "it'll be tough to carry on without a NASA contract."
That's not a problem for SpaceX, which chooses to invest its own money in new technologies without waiting for a government handout. SpaceX developed the Falcon 9 without government subsidy, is now developing the next-generation Falcon Heavy rocket without government subsidy, and is developing without government subsidy the reusable Falcon 9 booster that will land on a pad. Dragon V2 is a big part of SpaceX founder Elon Musk's vision to one day colonize Mars, so Dragon will continue without the NASA award.
Apparently no one asked about Boeing's partnership with Bigelow Aerospace, which is building expandable habitats for deployment in low Earth orbit later in the decade. Boeing and Bigelow held a joint media event in Las Vegas April 30 to display the non-NASA version of CST-100 and mockups of that habitats scheduled to launch in 2017. Had I been there, I would have asked if Boeing would proceed with CST-100 for Bigelow customers, regardless of the NASA award this summer. If so ... they have to launch from somewhere.
Senator Bill Nelson (D-FL) was among the speakers. One comment by the senator didn't make the Florida Today article, but you should take note:
Nelson: no funds for moon mission; ARM is the realistic mission beyond LEO on way to Mars.

— James Dean (@flatoday_jdean) June 9, 2014
ARM is the proposed Asteroid Retrieval Mission. LEO is shorthand for Low Earth Orbit.
Elsewhere, NASASpaceflight.com reports that the first crewed flight on Space Launch System might not be until 2023 if NASA Safety Office and Astronaut Office safety concerns can't be addressed.
So although the topic of conversation was the CST-100 hangar, maybe someone should have asked Senator Nelson why he made the taxpayer flush billions into his "monster rocket."
---
Media articles:
Bright House News 13 "Boeing Unveils New Capsule Destined for Space by 2017"
Florida Today "Boeing Shows Off Crew Capsule at KSC"
Orlando Business Journal "Why Central Florida Should Watch Boeing's Next Step Into Space"
Orlando Sentinel "Boeing Showcases Capsule That Could Become 'Taxi' to Space Station"
WMFE 90.7 FM Orlando "Boeing Puts its New Spacecraft on Display"