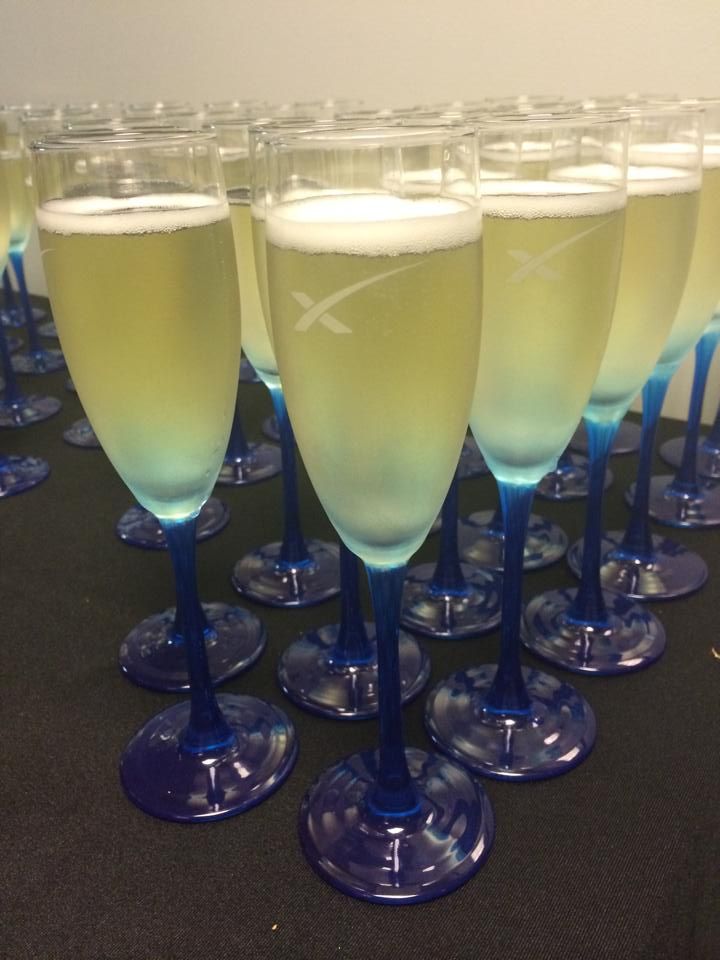 SpaceX champagne glasses. Image courtesy Karen LaFon.
I wrote August 5 about SpaceX setting a modern-era record for the shortest turnaround of a pad for launches. The company launched two Falcon 9 rockets in just under 22 days.
This morning, SpaceX obliterated that record.
Fourteen days after launching commercial satellite AsiaSat 6 on September 7, SpaceX launched their robotic cargo craft Dragon this morning to the International Space Station.
The SpaceX Falcon 9 launches its Dragon to deliver cargo to the International Space Station. Video source: NASA.
The record could have been thirteen days, but yesterday's attempt was rained out with about a half-hour left in the countdown.
You might have to go back to the Gemini 7 and Gemini 6A launches from Pad 19 in December 1965 to find a faster turnaround of a Cape pad. That was improvised, not planned. Gemini 6 was supposed to launch on October 25 to rendezvous with an Agena Target Vehicle, but the Agena was destroyed during launch earlier that day, so Gemini 6 had no mission. It was decided to postpone the mission until December, so it could practice a rendezvous with Gemini 7, which launched on December 4. Pad 19 required only minimal repairs, and the renamed Gemini 6A launched on December 15.
It should be noted that SpaceX uses a horizontal integration method for Falcon 9, as did Gemini for the Titan II, which might suggest why it was possible for both pads to be turned around so quickly. Kennedy Space Center's Launch Complex 39, and the two United Launch Alliance pads that bookend the SpaceX Pad 40, use a vertical integration, which adds overhead and infrastructure that may require repair after launches.
A time-lapse photograph of the erection and launch of Gemini 10. Image source: Wikipedia.
The Russians have used horizontal integration at Baikonur going back to the R-7 ICBM in the late 1950s. Lacking a prosperous economy, Russia and its Soviet predecessor have always been forced to find the more efficient means to operate their space program.
Perhaps more important than the record is that the last two launches have been routine, with no significant anomalies.
In the post-launch media event, SpaceX Vice-President of Mission Assurance Hans Koenigsmann said he thought it might be possible for SpaceX to reduce time between launches to as short as a week, assuming weather cooperates.
SpaceX now has six launches at Pad 40 in 2014. Koenigsmann said two more are planned for the year, including another Dragon flight and a commercial satellite launch. In November, SpaceX will use Pad 40 to demonstrate a Dragon V2 pad abort for the commercial crew program.
The revolutionary potential of NewSpace is here. I can't help but wonder what executives at Boeing, Lockheed Martin, ATK and Orbital Sciences are thinking about how they will possibly compete with SpaceX.
Click the arrow to watch the post-launch media briefing. Video source: NASA.