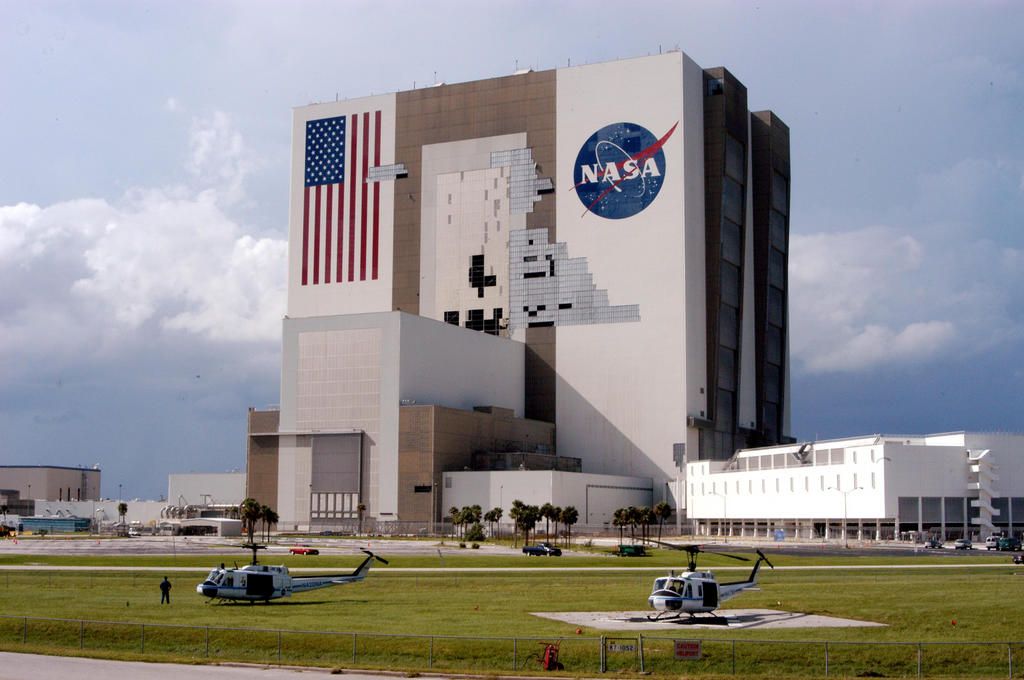 The Vehicle Assembly Building after Hurricane Frances. Image source: Kennedy Space Center photo archives.
Ten years ago today, Frances bore down on the Space Coast as a Category 2 hurricane.
When it left the next day, the storm had dealt the most significant damage to Kennedy Space Center in its history.
Two days earlier, Frances had been a Category 4, posing a worst-case scenario for the space center. Most KSC facilities were designed to withstand a Category 3.
September 4, 2004 ... Hurricane Frances approaches the Florida coastline. Image source: NASA GES DISC.
On September 2, NASA issued a press release detailing KSC preparations for the hurricane.
As of today, KSC is closed, and its nearly 14,000 workers have been sent home to make preparations with their families. The center is tentatively scheduled to reopen Tuesday.
KSC workers spent the past several days taking steps to protect the Space Shuttle fleet, spacecraft hardware, and facilities against damage. Most major KSC systems have been powered down, sandbags have been laid around building doors and heavy equipment moved into the massive Vehicle Assembly Building. Hardware has been covered with plastic or tarps and smaller pieces of equipment have been raised off the ground.
All three Space Shuttles have been secured in their Orbiter Processing Facilities. Shuttles' systems are powered down, their landing gear stowed and payload bay doors closed. Spaceflight hardware has been lifted off floors and protected. International Space Station (ISS) components, housed at KSC while they are prepared for flight, have been secured.
In the orbiter's hangar, Atlantis' wheels are raised to prepare for Frances. Image source: NASA.gov press release.
Outer bands passed over KSC on September 4, but the brunt of the storm came through the space center on September 5.
Frances makes landfall on September 5. Image source: The Weather Channel.
According to the KSC Photo Archive, "The maximum wind at the surface from Hurricane Frances was 94 mph from the northeast at 6:40 a.m. on Sunday, September 5. It was recorded at a weather tower located on the east shore of the Mosquito Lagoon near the Cape Canaveral National Seashore. The highest sustained wind at KSC was 68 mph."
The next day, on September 6 NASA issued a press release with an initial damage assessment:
The most serious damage reported so far is to the center's landmark structure, the Vehicle Assembly Building (VAB), and to the facility that manufactures Space Shuttle Thermal Protection System tiles and blankets.
Sustained wind of more than 70 mph was recorded during the storm. Approximately 1,000 panels were blown off the VAB. In some places, exterior panels and underlying sub-panels are missing, leaving the interior of the building exposed to the elements. There are several holes, including one estimated to be 50 feet by 50 feet, in the building. Emergency operations personnel have not entered the VAB, as several loose panels are still hanging from the building and present a safety hazard.
The KSC Space Shuttle tile and blanket facility's roof is partially torn off, and there is significant wall damage. Damage to the facility and its effect on the Space Shuttle Return to Flight effort is not yet known. The building housing International Space Station hardware and modules appears to be in good shape. KSC was powered down last week as Frances approached. Emergency operations teams are working to restore electricity and phone service to the center.
NASA raw footage of Kennedy Space Center hurricane damage. Video source: NASA.
Another update was issued on September 7:
Numerous buildings and center infrastructure sustained wind and rain damage. KSC will remain closed to most personnel until Monday, while damage assessments and repairs continue. Video b-roll of KSC hurricane damage is airing on the NASA TV Video File. NASA will release additional footage as available.
Approximately 1,000 operations people are working at KSC today, up from about 200 yesterday. Power and phone service was restored to most of the center. Preliminary assessments of the center's two launch pads indicate they're in good shape. The SWIFT spacecraft, which is scheduled for launch early next month, also appears fine, but the building where it rode out the storm did sustain damage. Also, power was restored today to the third and final Orbital Processing Facility, which houses the Space Shuttle Discovery.
Assessment of KSC's landmark facility, the Vehicle Assembly Building (VAB), shows about 820 panels were torn off during the storm. Initial review of the VAB's interior indicates no serious damage to equipment, including two Space Shuttle External Tanks. Engineers are continuing their damage assessment. The Thermal Protection System Facility, where Space Shuttle tile and blankets are manufactured, suffered significant damage. Work is under way to recover critical spaceflight material, such as tile molds, from exposed areas.
The second floor of the Thermal Protection System Facility was heavily damaged by the hurricane. Image source: KSC photo archives.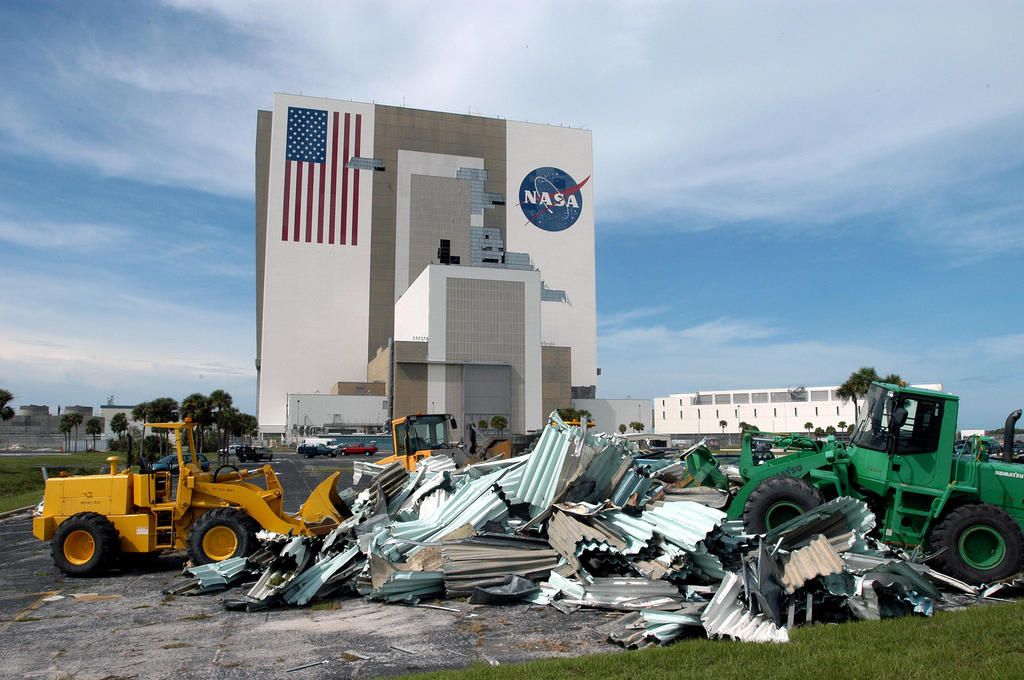 VAB aluminum panels are recovered during the Frances cleanup. Image source: KSC photo archives.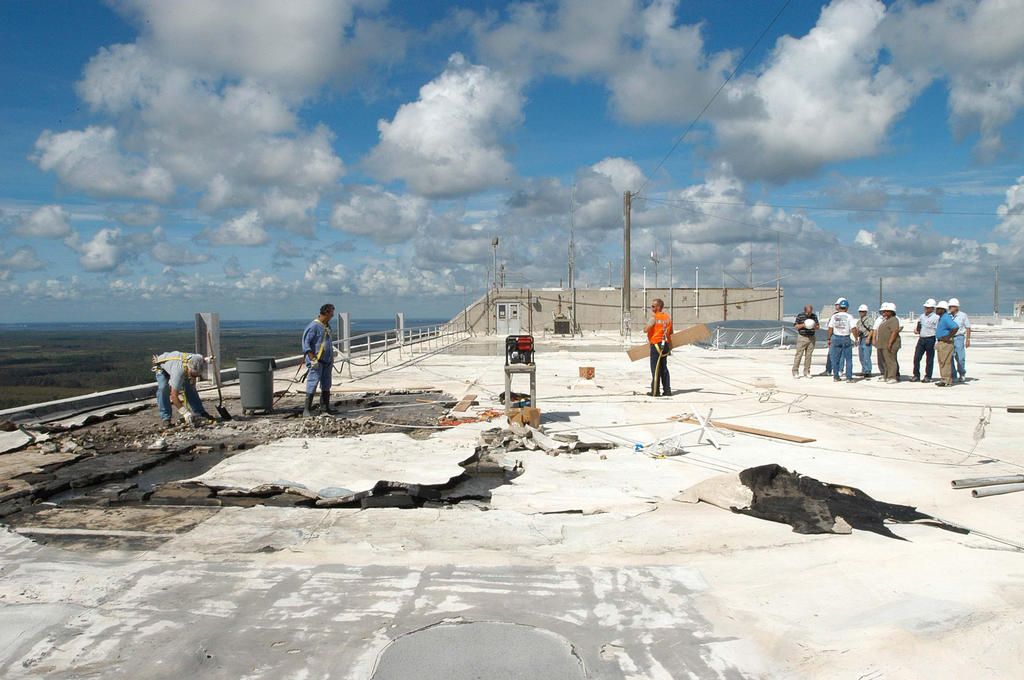 VAB roof damage caused by Frances. Image source: KSC photo archives.
On September 8, center director Jim Kennedy issued this statement:
Greetings, my friends! As we head into day three after the wrath of Hurricane Frances, I wanted to take a moment to address some of the actions the Center has taken in the best interest of KSC and its employees. I will also give you a preliminary picture of how KSC fared after the storm.
First, and foremost, I have received no reports of any of our work force being injured from the storm. If you saw my note last week, this was by far my number one priority. We were all truly blessed. I'm not naive and totally understand hundreds and even thousands of you have home and property damage and many still don't have power. My thoughts are with you during this hectic time.
As I'm sure you heard, and in concert with our major contractors, I made the decision not to bring the total work force back to KSC until Monday, Sept. 13. The major reasons for this decision are as follows: Brevard County has requested that as many people as possible to stay off the roads as the county recovers. There are gas, food and ice shortages the county is managing. At the same time, we have many damaged facilities and we want to make sure we have safe and working facilities for everyone to return to. I also realize many of you are struggling to clean up and maintain your home front. Brevard County Schools are closed until Monday so many people need to take care of their children. Finally, by this weekend, our weather experts will have a good feel for what Hurricane Ivan is going to do. A combination of all these reasons led to the decision. Thanks for your patience and understanding; I know many people are chomping at the bit to check out their offices and facilities for themselves.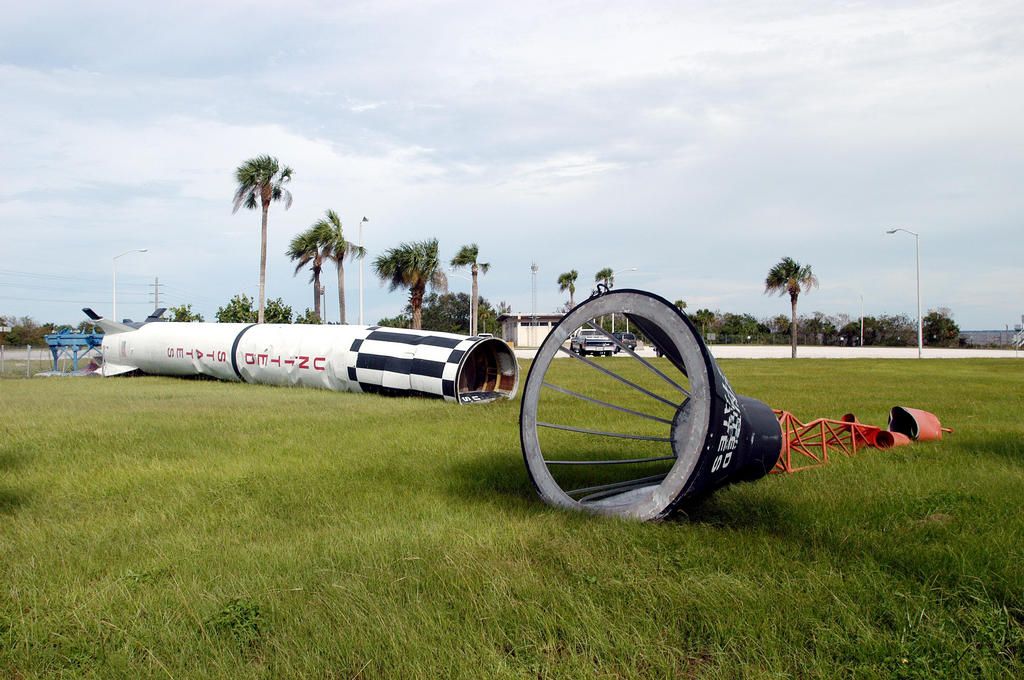 A Mercury-Redstone at the KSC Gate 3 entrance was knocked over by Frances. Image source: KSC photo archives.
Frances fatally damaged the iconic press site review stand. Image source: KSC photo archives.
Beach erosion near the launch pads caused by the hurricane. Image source: KSC photo archives.
Nine days later on September 16, NASA issued a press release announcing that "14,000 people returned to work at NASA's Kennedy Space Center (KSC) this week, following an 11-day closure due to Hurricane Frances." The release listed these recovery efforts:
Vehicle Assembly Building:
Netting was placed above flight hardware to ensure no additional debris would fall and cause damage
Roof was inspected and is safe for contractors to begin repairs
High-crew rigging was moved to the south side for workers to begin inspection, panel replacement and repair
Thermal Protection System Facility:
Workers are installing a temporary roof
Clean-up and water removal activities are well under way
Grid is complete at the hangar, so workers can begin to process TPS blankets
The equipment from the second floor, as well as the raw materials needed to manufacture the blankets, was moved to the hangar
Processing Control Center:
Temporary roof installed
Clean-up and water removal activities are well under way
Wet tiles removed from the facility, so work stations and offices can be cleaned
Frances wasn't the only hurricane to harass the Space Coast that year.
Hurricane Charley made landfall in southwest Florida the afternoon of August 13, making its way up the I-4 corridor to exit near Daytona Beach north of KSC early the next morning. According to an NBC News report, "Charley tore off about 40 of the 4-foot-by-16-foot exterior panels from the assembly building."
Hurricane Frances passed through September 4-5.
Just as KSC was picking up the pieces from Frances, Hurricane Ivan passed south of the Florida Keys on September 10 but ten days later looped back over the Atlantic to pass east of Cape Canaveral on a southward journey that eventually took it over the Gulf of Mexico again.
Hurricane Jeanne was the fourth hurricane to strike Florida, making landfall as a Category 3 storm late on the night of September 25 just two miles from where Frances had struck three weeks earlier.
This composite image tracks Hurricane Jeanne to Florida landfall, and shows the tracks of earlier 2004 hurricanes. Image source: NASA Earth Observatory.
Spaceflight Now reported on September 27:
At the Kennedy Space Center, sustained winds of 54 mph were recorded at ground level with gusts to 64 mph. At the 492-foot level, sustained winds from Jeanne and Frances were 68 mph. But Frances produced gusts up to 102 mph while Jeanne's gusts measured 93 mph.
Frances generated winds greater than 50 mph for more than 36 hours compared to 21 hours for Jeanne. Rainfall from Frances measured 8 inches while Jeanne produced just 3 inches.
NASA Direct reports on KSC damage assessment and recovery starting on September 27. Video source: NASA.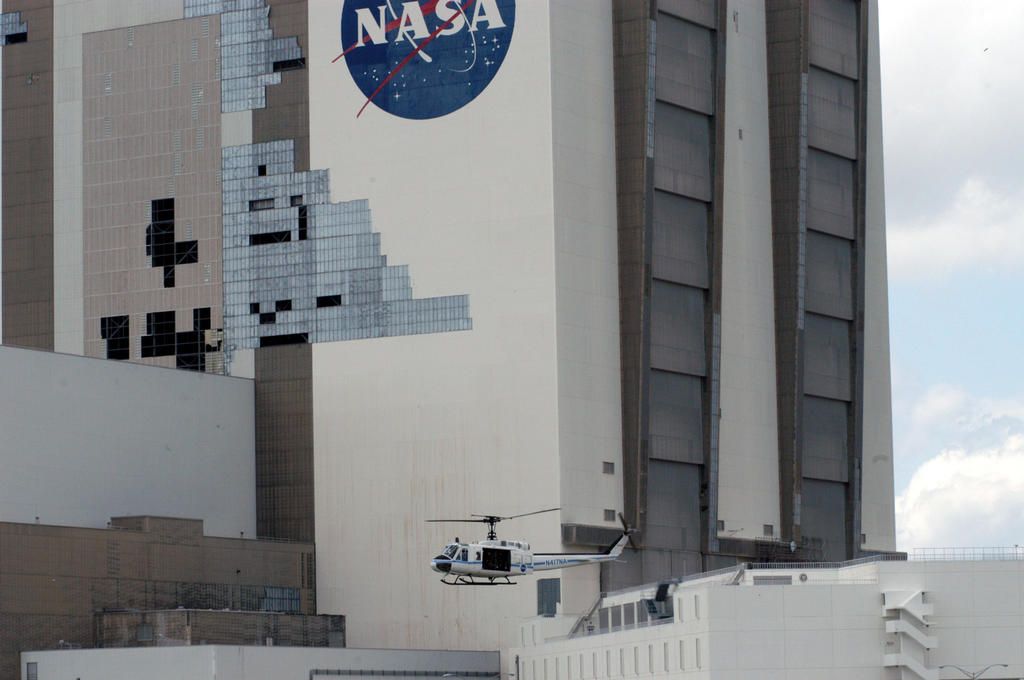 A NASA helicopter takes off to perform inspections of Hurricane Jeanne damage. Image source: KSC photo archives.
Roof damage to the Apollo Saturn V Center caused by Hurricane Jeanne. Image source: KSC photo archives.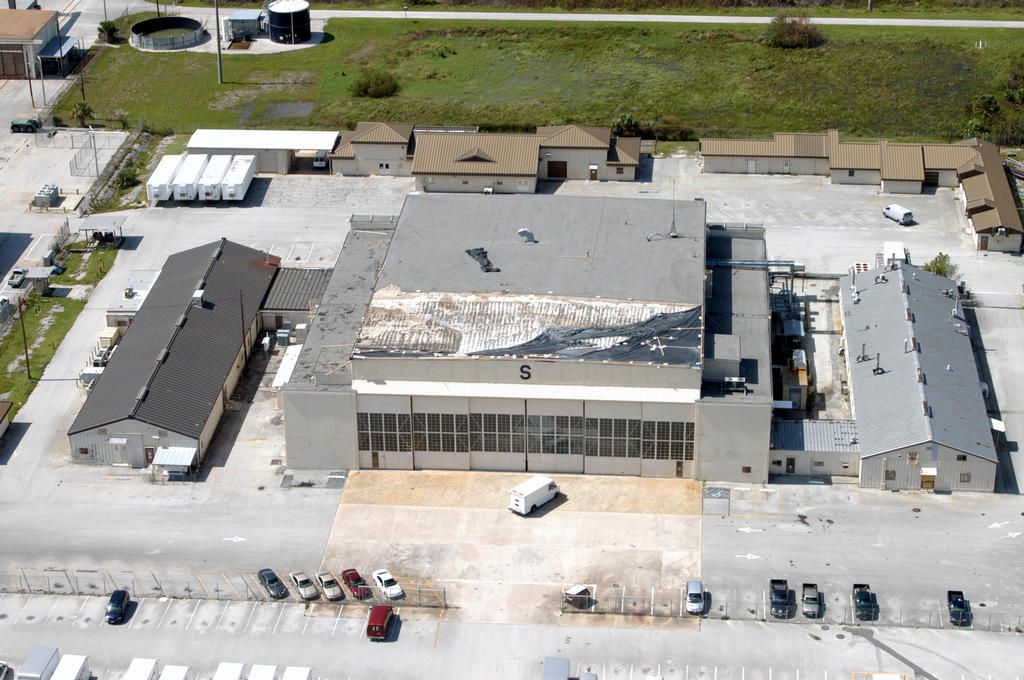 Historic Hangar S at Cape Canaveral Air Force Station also suffered roof damage. Image source: KSC photo archives.
2004 was the most active hurricane season in Kennedy Space Center history. In the ten years since then, for the most part KSC has been in a hurricane lull, with the last event Tropical Storm Fay in August 2008. The space center closed for the event, which lasted three days as Fay stalled over the Space Coast. KSC damage was minimal other than some flooding.
The 2014 hurricane season has been quiet so far for Florida, but we're only now in the peak time statistically, so locals need only revisit what happened ten years ago to be reminded not to take this lull for granted.
Space Coast rainfall from Tropical Storm Fay. Image source: National Weather Service.