Click the arrow to watch the film. Video source: GM2ltd YouTube channel.
Plastic!
If you want to believe this week's Retro Saturday film, our homes should be almost all plastic by now.
Even the spouses and children, judging by the acting performances.
The Monsanto House of the Future is a 1957 promotional documentary by the Plastics Division of the Monsanto Chemical Company. The House of the Future was an original attraction in Disneyland's Tomorrowland from 1957 through 1967.
I grew up in Southern California. The original Disneyland in Anaheim was a childhood ritual for anyone growing up in that era, back when rides had tickets lettered A through E (hence the phrase, "E-ticket ride").
A Disneyland E-ticket circa the mid-1970s. Image source: Wikipedia.
As documented by the web site Yesterland.com, the House of the Future was one of two free attractions in Tomorrowland sponsored by Monsanto, along with the Hall of Chemistry. Such a blatant commercial promotion today might be scoffed at or ridiculed as an "infomercial," but Walt Disney defrayed his costs by recruiting American corporations to create promotional exhibits in his amusement park.
I was too young to grasp the concept of an informercial. I just thought the House of the Future was very cool.
But the plastics fad never caught on.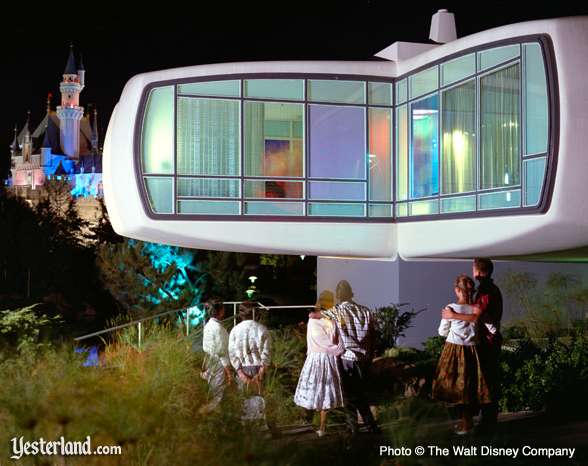 An undated House of the Future publicity photo. Image source: The Walt Disney Company via Yesterland.com