An artist's concept of the Terrestrial Return Vehicle. Image source: Intuitive Machines.
Popular Science posted an article October 17 about a company called Intuitive Machines which hopes to develop what the magazine called a "UPS-Style Shipping Service" for the International Space Station.
Except there's one little snag when it comes to conducting experiments on the ISS: It's kind of far away. Getting critical samples from the station to Earth can be a lengthy process, and researchers usually have to wait anywhere from six months to a year before samples can make the trip to laboratories on the ground. These long waits can be risky, as live biological samples have a perishable lifespan and often need to be reviewed quickly before they degrade.
Well now, private spaceflight company Intuitive Machines has a solution to this problem. In cooperation with NASA, the company is developing the Terrestrial Return Vehicle (TRV), a spacecraft that can deliver experiment samples from station to Earth in less than 24 hours. Think of it as same-day shipping for the ISS. Such a short sample return time opens up more opportunities for research on the ISS that could never have been done before.
"Those experiment samples are left stranded on board until we can get a whole vehicle up there packed with 5,000 pounds of return cargo," Steve Altemus, president of Intuitive Machines, tells Popular Science. "In our paradigm, we have opportunities to come home every single day, bringing critical samples home when they're needed."
According to the company's web site:
Intuitive Machines in cooperation with National Aeronautics and Space Administration (NASA) has been selected by the Center for the Advancement of Science in Space (CASIS) to develop a Terrestrial Return Vehicle (TRV) that will enable on demand, rapid return of experiments from the International Space Station (ISS) National Laboratory. Through this commercial service, Intuitive Machines will enable researchers to regularly and quickly return small samples and components from the ISS to Earth ... As part of this new venture Intuitive Machines is responsible for the overall design and certification of the return vehicle, as well as terrestrial payload return services for its customers. CASIS will provide integration onto a commercial launch vehicle for access to the ISS, as well as on-orbit flight operations services.
The Popular Science articles states a TRV will be "about the size of a bag of golf clubs."
After it enters the Earth's atmosphere, the TRV will release a super sonic drogue parachute to slow down its descent. Then, at about 25,000 feet, it will deploy a parafoil, allowing it to steer more easily to its landing site — a test range in the Utah desert. In total, the TRV's return trip to Earth will take a mere six hours, which is comparable to how fast the Shuttle used to come home from the ISS.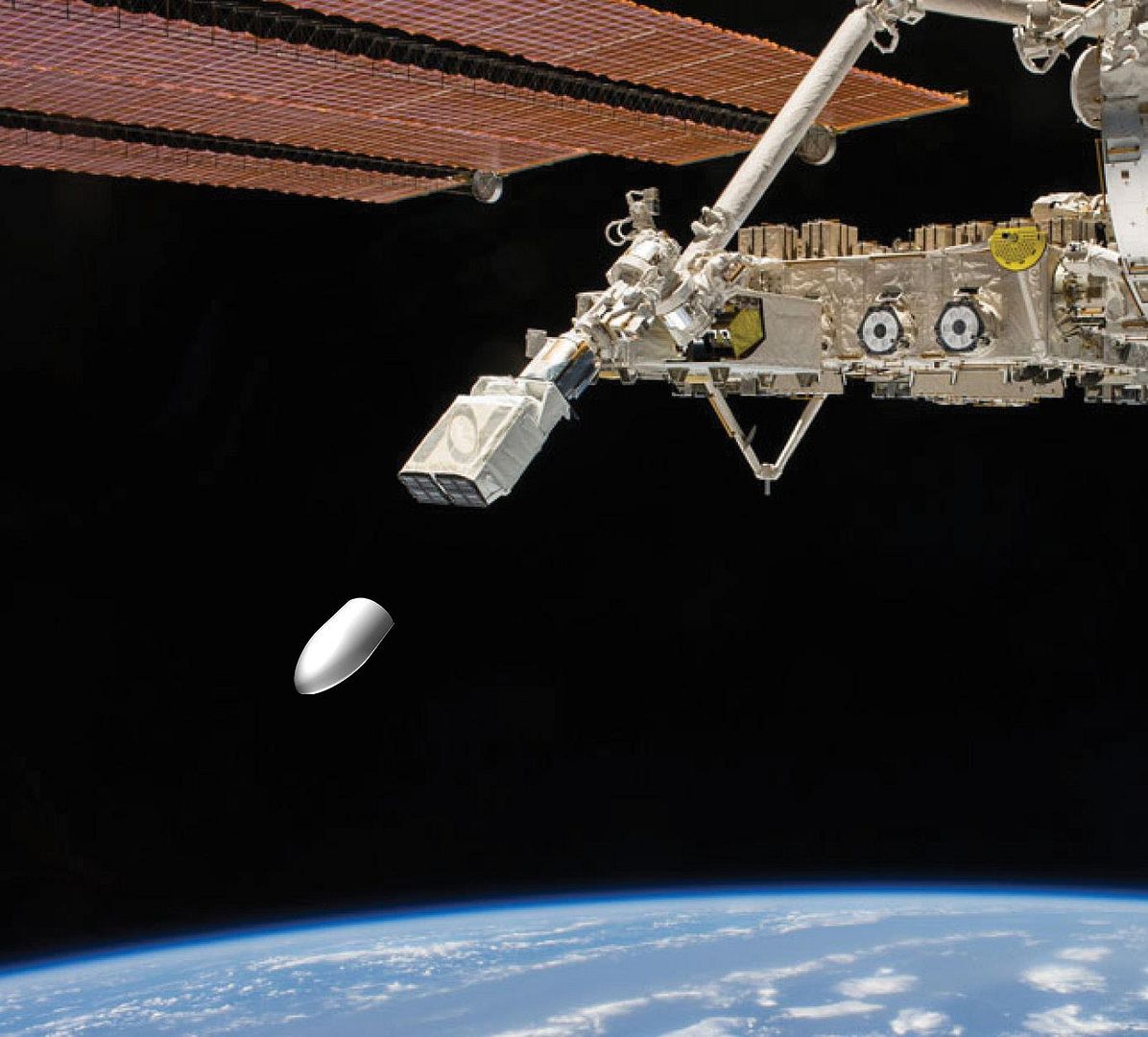 In this artist's concept, the TRV ejects from the Japanese Experiment Module Kibo on the ISS. Image source: Intuitive Machines.
According to the company, the first TRV will be launched in 2016, presumably aboard either a SpaceX Dragon or Orbital Sciences Cygnus vehicle.
It's a neat idea, but immediately a few safety concerns come to mind.
Presumably the TRV will have some sort of hypergolic fuels on board to steer it into the atmosphere. Hypergolic propellants spontaneously ignite when in contact with each other, eliminating the need for an ignition source. The Space Shuttle had 44 Reaction Control System (RCS) jets that used hypergolic fuels to maneuver while in orbit.
Launching a hypergolic-fueled TRV inside a Dragon or Cygnus means that essentially the cargo craft is carrying a bomb on board.
In the early days of the Space Shuttle program, the orbiter was used to launch satellites from its payload bay despite the presence of fuel on the payload. The 1990 Augustine Commission report titled "Report of the Advisory Committee On the Future of the U.S. Space Program" stated that "in hindsight" it was "inappropriate in the case of Challenger to risk the lives of seven astronauts and nearly one-fourth of NASA's launch assets to place in orbit a communications satellite."
Aside from the ignition potential, a leak of a toxic propellant would also be of concern, for no other reason than contamination of other experiments aboard.
Even though people won't be aboard the Dragon or Cygnus, I have to wonder how other ISS customers will feel about these "bombs" being aboard. The risk management people are going to have a field day.