"Infinite Worlds" was released by Simon & Schuster on October 28, 2014.
What would you think if an astronaut asked you for advice?
That was the "beginning of a beautiful friendship," to quote the final line from Casablanca, between photographer Michael Soluri and the crew of STS-125 Atlantis.
Having established a track record photographing launches going back to Apollo 16, Soluri approached NASA with the idea of documenting those working on the final Hubble Space Telescope servicing mission — not just the crew, but the thousands of workers behind the scenes who go unseen by the public.
Any professional photographer knows that light is everything when it comes to shooting imagery. You need to know its properties, its behaviors, how its presence or absence can affect the results of your work.
When Soluri presented his portfolio to the crew, he asked astronaut Mike Massimino, "What is the quality of light really like in space?"
Massimino replied, "Could you teach us to take better photographs of our trip to space? To better communicate our experiences and tell our story?"
A Michael Soluri image of astronaut Mike Massimino.
And so began a "beautiful friendship" between Soluri and the STS-15 crew that resulted in Infinite Worlds: The People and Places of Space Exploration, released on November 4, 2014 by Simon & Schuster.
The publisher sent me a copy and asked me to write a review.
Infinite Worlds nominally follows the STS-125 mission, although it strays off into tangential subjects from time to time.
As with all coffee table books, its raison d'être is to display Soluri's artistry.
I was particularly intrigued by his use of black-and-white for many images, because the deliberate choice not to use color film gives the artist the ability to play with shades of gray, with shadow and light, or the absence of light.
An example of this is in Soluri's essay "Time and Distance" at the end of the book, where he shows a spontaneous black-and-white image he shot of his shadow and those of other photographers as they waited for the Apollo 16 crew to exit the Operations and Checkout building. "Needing something to pass the time," he writes, "I started photographing my shadow to give context to a significant place and moment in time."
Having been a professional photographer myself, I know that boredom can be a stimulant for a photographer's fertile mind.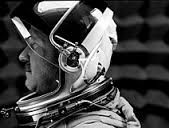 Michael Soluri's monochromatic image of STS-125 astronaut John Grunsfeld.
Soluri's artwork is on display at the Kennedy Space Center Visitor Complex in the Space Shuttle Atlantis exhibit.
Some of the monochromatic images in the book appear in color at the exhibit, so either he chose to desaturate color images, or used two different media in photographing his images.
Infinite Worlds begins with a foreword by John Glenn, who was the first person to take a sunrise picture in space, during his Friendship 7 flight in February 1962. Glenn used a hand-held camera; Soluri writes that Glenn had to "buy an over-the-counter camera for his mission."
John Glenn's orbital sunrise image taken on Friendship 7, February 20, 1962. Image source: The Ohio State University Knowledge Bank.
The book has four chapters spanning about 300 pages.
The chapter titles are "On Earth," "On Orbit Around Earth," "On Capturing Ancient Light" and "On the End of One Era and the Beginning of the Next." Chapter 4 is the shortest chapter, with only two essays.
The book's essays are written by a diverse choice of authors — astronauts, astronomers, program managers, trainers, Shuttle maintenance workers and more.
Certain names appear throughout the essays, in particular Frank Cepollina, who was Deputy Associate Director of the Hubble Space Telescope office at the Goddard Space Flight Center. At age 78, Cepollina is still with NASA's Satellite Servicing Capabilities Office at Goddard.
Cepollina has his own essay, but his name appears throughout the book, as revered as the fictional version of Gene Kranz in the movie Apollo 13.
As with nearly all the essayists, Cepollina writes how a childhood exposure to aviation inspired him to a career in aerospace.
The source of inspiration seems to vary based on the author's age. With Cepollina, it was World War II-era bombers. With other writers, the inspiration came from TV shows such as Sky King or Star Trek. Several cite the Apollo moon missions.
A Michael Soluri image of Frank Cepollina.
If you're looking for all the references in the book to Cepollina, they're not easy to find. The book lacks an index.
I also found frustrating the absence of captions on many photos. For those of us intimately familiar with Shuttle, we can figure out most of the subject matter. For everyone else, it's art, but of what may be left to the reader's imagination.
A few of the essayists exploited their opportunity to express their political beliefs about the end of the Space Shuttle program, which I found to be inappropriate.
The three who did so had one common trait — they worked at Kennedy Space Center.
Their ignoring the reasons why Shuttle was cancelled reminded me of what the Columbia Accident Investigation Board wrote in its final report about the NASA culture:
External criticism and doubt, rather than spurring NASA to change for the better, instead reinforced the will to "impose the party line vision on the environment, not to reconsider it," according to one authority on organizational behavior. This in turn led to "flawed decision making, self deception, introversion and a diminished curiosity about the world outside the perfect place." The NASA human space flight culture the Board found during its investigation manifested many of these characteristics, in particular a self-confidence about NASA possessing unique knowledge about how to safely launch people into space.
The book in general, and these three essayists in particular, leave the reader with the false impression that the U.S. human spaceflight program is over, which it most certainly is not.
Two of the essaysists assert that Congress should just give NASA a whole lot of guaranteed funding over a long period of time and then be left alone to do as it will. In my opinion, this reflects not only a cluelessness about the political process, but a fundamental disrespect for the American taxpayer who funds their work and the representatives elected to oversee them. I'm just as guilty of bashing Congress as anyone — and the bashing is well-deserved — but at the same time it seems to me that if you expect the government to provide you with a lifetime job, you should respect the right of those people to oversee what you do.
All the essays document the incredible complexity of Shuttle, and the endless hours of training necessary to make it safe to fly.
A Michael Soluri image of the Space Shuttle with Atlantis on the launch pad. Image source: NPR.
The Columbia Accident Investigation Board concluded:
Although an engineering marvel that enables a wide-variety of on-orbit operations, including the assembly of the International Space Station, the Shuttle has few of the mission capabilities that NASA originally promised. It cannot be launched on demand, does not recoup its costs, no longer carries national security payloads, and is not cost-effective enough, not allowed by law, to carry commercial satellites. Despite efforts to improve its safety, the Shuttle remains a complex and risky system that remains central to U.S. ambitions in space. Columbia's failure to return home is a harsh reminder that the Space Shuttle is a developmental vehicle that operates not in routine flight but in the realm of dangerous exploration.
It was that "complex and risky" nature of Shuttle that led NASA Administrator Sean O'Keefe to cancel the final Hubble servicing mission because it was considered to be too dangerous. Michael Griffin, his successor, reversed that decision, which led to the STS-125 flight.
The incredible talents of those writing for this book did what they could to make Shuttle safe, but for me it was like doing everything they could to assure a square peg could fit in a round hole. That was the "engineering marvel" of Shuttle, and of the extraordinary people who made Shuttle fly.
At a retail price of $40, Infinite Worlds isn't for everyone.
It serves best as a keepsake for those who worked on Shuttle, for those intimately familiar with the program, and for those who wish to study the art of monochrome photography.
As a historical document, it's both a visual and written insight into the thousands of people who worked on Shuttle, and on Hubble. But it should also be noted that a few of the essays stray off into political opinion, leaving behind historical accuracy.
Infinite Worlds is available through the Simon & Schuster web site or other online retailers such as Amazon and Barnes & Noble.
For more of Michael Soluri's monochromatic artistry, check out this July 2011 NPR article, "Then And Now: The Labor Of American Human Space Flight."