Click the arrow to watch today's Seattle event. Video source: Cliff O YouTube channel.
SpaceX founder Elon Musk has often fretted about the dangers of artificial intelligence, but he plans to bring humanity one step closer to the Skynet of Terminator fame with his proposal to build a global satellite Internet project.
Elon Musk on Jan. 16 said SpaceX has submitted to international regulators the necessary documentation for a global satellite Internet project to eventually include some 4,000 satellites in low Earth orbit and initial service within five years ...
Musk did not provide a name for his satellite project, and there was no immediate way to verify what he or SpaceX have submitted to the International Telecommunication Union (ITU), the Geneva-based United Nations agency that regulates orbital slots and radio spectrum. Also unclear is what radio frequencies the SpaceX network would used to deliver broadband from low Earth orbit.
"There's multiple elements to the regulatory things," Musk said in answer to a question during an invitation-only speech in Seattle announcing the creation of the SpaceX satellite factory there. "There's the ITU filings and we've done the filings associated with that."
Musk held a private event Friday evening January 16 in Seattle to court engineers who were potential hires, although local politicians were also in attendance.
With him was a flown SpaceX Dragon, which went on temporary display over the weekend at the city's Museum of Flight.
A flown SpaceX Dragon on temporary display in Seattle. Image source: Seattle Times.
Business Week published an exclusive interview with Musk that provided some detail for the project.
The Space Internet venture, to which Musk hasn't yet given a name, would be hugely ambitious. Hundreds of satellites would orbit about 750 miles above earth, much closer than traditional communications satellites in geosynchronous orbit at altitudes of up to 22,000 miles. The lower satellites would make for a speedier Internet service, with less distance for electromagnetic signals to travel. The lag in current satellite systems makes applications such as Skype, online gaming, and other cloud-based services tough to use. Musk's service would, in theory, rival fiber optic cables on land while also making the Internet available to remote and poor regions that don't have access.
In Musk's vision, Internet data packets going from, say, Los Angeles to Johannesburg would no longer have to go through dozens of routers and terrestrial networks. Instead, the packets would go to space, bouncing from satellite to satellite until they reach the one nearest their destination, then return to an antenna on earth. "The speed of light is 40 percent faster in the vacuum of space than it is for fiber," Musk says. "The long-term potential is to be the primary means of long-distance Internet traffic and to serve people in sparsely populated areas."
A related unconfirmed report is circulating on the Internet that Silicon Valley-based Google may provide a $1 billion for the SpaceX satellite project.
The Wall Street Journal reports:
Google Inc. is close to investing roughly $1 billion in Space Exploration Technologies Corp. to support its nascent efforts to deliver Internet access via satellites, according to a person familiar with the matter.
The investment would value SpaceX, backed by Tesla Motors Inc. Chief Executive Elon Musk, at more than $10 billion, according to this person. It isn't clear what exact stake Google could end up with in the fast-growing space company.
If Google completes the deal, it would be the Internet company's latest effort to use futuristic technology to spread Internet access to remote regions of the world, alongside high-altitude balloons and solar-powered drones. By extending Web access, Google increases the number of people who can use its services.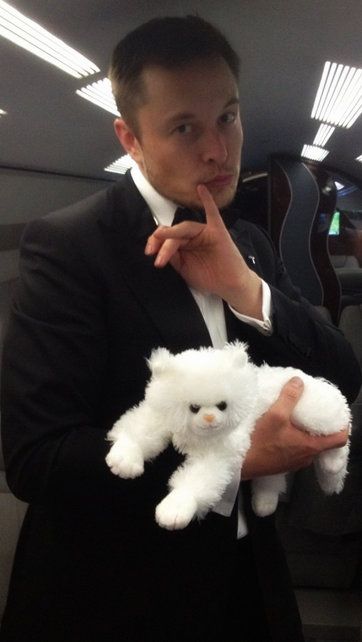 Elon Musk poses as Dr. Evil. Just sayin'.
---
UPDATE January 20, 2015 5:30 PM EST — SpaceX issued this press release today announcing Google and Fidelity as new investors.
Space Exploration Technologies (SpaceX) has raised a billion dollars in a financing round with two new investors, Google and Fidelity. They join existing investors Founders Fund, Draper Fisher Jurvetson, Valor Equity Partners and Capricorn. Google and Fidelity will collectively own just under 10% of the company.
SpaceX designs, manufactures, and launches the world's most advanced rockets and spacecraft. This funding will be used to support continued innovation in the areas of space transport, reusability, and satellite manufacturing.