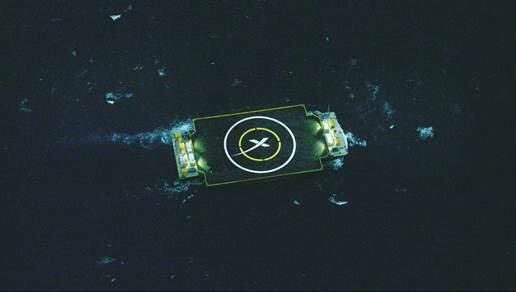 Don't call it a barge. It's an autonomous spaceport drone ship. Image source: Elon Musk on Twitter.
---
UPDATE January 7, 2015 8:30 PM EST — NASA announced this afternoon that the CRS-5 launch has been rescheduled to Saturday January 10 at 4:47 AM EST.
A Saturday launch will result in the Dragon spacecraft arriving at the space station Monday, Jan. 12. Expedition 42 Commander Barry "Butch" Wilmore of NASA will use the station's 57.7-foot robotic arm to capture Dragon at approximately 6 a.m. Flight Engineer Samantha Cristoforetti of the European Space Agency will support Wilmore as they operate from the station's cupola. NASA TV coverage of grapple will begin at 4:30 a.m. Coverage of Dragon's installation to the Earth-facing port of the Harmony module will begin at 8:15 a.m.
If the launch does not take place Saturday, the next launch opportunity would be Tuesday, Jan. 13 at about 3:36 a.m.
---
SpaceX was supposed to launch the Falcon 9 this morning with its cargo Dragon payload, but the attempt was cancelled with 90 seconds left in the countdown when readings indicated a problem with an upper stage actuator.
SpaceX founder Elon Musk posted this tweet 50 minutes after the scrub:
Need to investigate the upper stage Z actuator. Was behaving strangely. Next launch attempt on Friday at 5am.

— Elon Musk (@elonmusk) January 6, 2015
What's an actuator?
An actuator is a type of motor that is responsible for moving or controlling a mechanism or system.
It is operated by a source of energy, typically electric current, hydraulic fluid pressure, or pneumatic pressure, and converts that energy into motion. An actuator is the mechanism by which a control system acts upon an environment. The control system can be simple (a fixed mechanical or electronic system), software-based (e.g. a printer driver, robot control system), a human, or any other input.
The initial report was that the anomaly was "actuator drift." This 2007 Hydraulics & Pneumatics article goes into detail:
Actuator drift occurs when a valve is out of null, resulting in a piston moving slowly or drifting when there is no control signal (e.g. when the electrical power is off). In some cases, this drift is desired — such as when null is adjusted so that the piston rod retracts to a safe position upon loss of the control signal.
Problems arise when the rate of drift is too high or in the wrong direction. For example, with a high drift rate, as much as a 10% control signal to the valve could be required just to compensate for the out-of-null valve. If a 10% control output is required just to hold position, only 90% is left to make the actuator move in the direction opposite the drift. Consequently, the actuator may only get to 90% of full speed in that direction. Therefore, in applications where quick moves are needed, a strongly biased null valve can keep the actuator from reaching the desired full speed.
Got that?
Most likely it's a minor fix, but due to orbital mechanics the next launch window is Friday January 9 at 5:09 AM EST.
Not counting the first demonstration flight in May 2012, this is the fifth contracted SpaceX cargo delivery to the International Space Station. Click here to download the CRS-5 press kit.
On Monday, NASA held three media events to discuss the launch; the videos of those events are below. Clearly the most popular person was SpaceX Vice-President of Mission Assurance Hans Koenigsmann, who was peppered with questions about the planned attempt to land the Falcon 9 on the company's drone ship.
Koenigsmann made it quite clear that you're not to call it a barge because it has thrusters for propulsion.
As discussed in this December 16 SpaceX press release, the drone ship is the latest step in the game plan to develop reusable rockets the company hopes will reduce launch costs.
A fully and rapidly reusable rocket—which has never been done before—is the pivotal breakthrough needed to substantially reduce the cost of space access. While most rockets are designed to burn up on reentry, SpaceX is building rockets that not only withstand reentry, but also land safely on Earth to be refueled and fly again. Over the next year, SpaceX has at least a dozen launches planned with a number of additional testing opportunities. Given what we know today, we believe it is quite likely that with one of those flights we will not only be able to land a Falcon 9 first stage, but also re-fly.
This assumes that a customer will accept the increased risk of launching a payload atop a previous flown rocket, but someone will eventually take the discount SpaceX will probably offer to be the metaphorical guinea pig.
SpaceX hopes repeated drone landings will convince the U.S. Air Force to allow the company to land its rockets and crew Dragons at the Cape's Pad 13 — yes, the worst kept secret in these parts is finally out, reported in this morning's Florida Today but quietly known to many of us for months. The article states there is no final agreement, but renovation work has been underway at Pad 13 for some time now.
If the Air Force remains stodgy, SpaceX could continue to use the drone to land the vehicles off-shore and then transport them back to port, presumably in Jacksonville where the drone ship was berthed for this mission. During a Reddit chat last night, Musk wrote that with Falcon Heavy launches the center stage could wind up landing on the drone ship down range rather than incur the fuel penalty of trying to return it back to the Cape.
Since two-thirds of the Earth's surface is covered with water, the drone ship gives SpaceX incredible flexibility in placing a mobile landing pad pretty much anywhere there's a large body of water.
I'll also mention that recently I drove past Kennedy Space Center's Pad 39A, being remodelled by SpaceX for the Falcon Heavy. Two pile drivers stand on the crawlerway at the base of the ramp, where a new horizontal integration facility will be built. The gravel on the ramp has been removed for the rails SpaceX will use to transport the rocket horizontally to the pad, where it will be erected to vertical for launch.
Enjoy the below videos, and hopefully we're back here on Friday to write about history.
Or grumble about another delay.
As I often say, "It wouldn't be a SpaceX launch without a little melodrama."
Pre-launch media event with ISS Program Manager Mike Suffredini, SpaceX VP of Mission Assurance Hans Koenigsmann, and U.S. Air Force Weather Squadron representative Major Perry Sweat.
ISS Research and Technology panel media event with ISS Program chief scientist Julie Robinson, CASIS director of operations and education Kenneth Shields, Micro-5 Principal Investigator Cheryl Nickerson from Arizona State University, and NR-SABOL Principal Investigator Sam Durrance from Florida Tech.
CATS Earth Science Instrument Briefing with ISS Program chief scientist Julie Robinson, NASA program scientist Robert Swap, and CATS principal investigator Matthew McGill.