April 12, 1965 ... Gemini 3 astronauts Gus Grissom and John Young meet with Astros manager Luman Harris. Image source: Beaumont Enterprise.
The city of Houston and Major League Baseball this week are marking the 50th anniversary of the Astrodome, the self-proclaimed Eighth Wonder of the World.
Before the move indoors, the team was called the Colt .45s, although they were commonly referred to as the Colts.
The franchise joined the National League in 1962. That was the year that NASA began work on the Manned Spacecraft Center, now known as Johnson Space Center.
So as the team moved into the first domed stadium, it seemed only natural to connect the team's futuristic ballpark to humanity's future in space.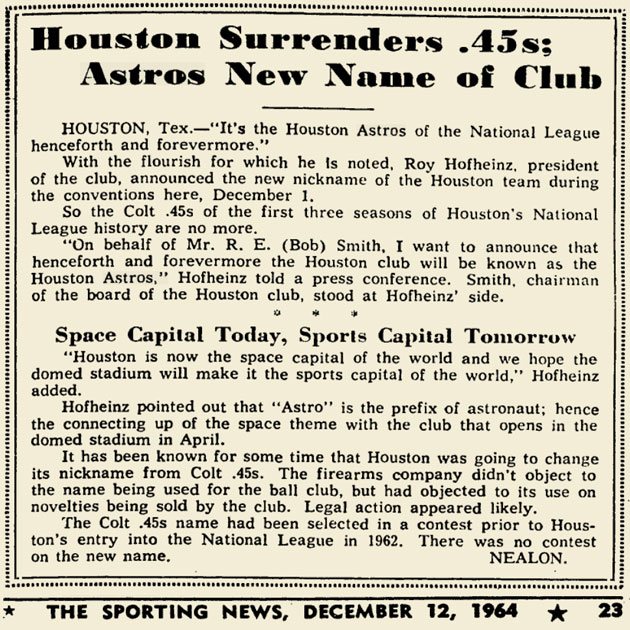 The December 12, 1964 Sporting News reports the team's name will change to Astros.
All but lost to history is that the franchise had a local connection to a second NASA space center.
The team moved its spring training camp in 1964 from Apache Junction, Arizona to Cocoa, Florida.
The facility known today as the Cocoa Expo Sports Center was originally named Cocoa Colt Stadium. During the summer of 1964, a professional Florida Rookie League was based at Cocoa Colt. Four major league teams — the Colt .45s, Twins, Tigers and Mets — all played their games at Cocoa Colt.
A 1966 Cocoa Astros Florida State League uniform. Image source: Uni-Watch.com.
Twenty-two astronauts threw the first pitch at the Astrodome on April 9, 1965. That was an exhibition game between the Astros and the New York Yankees.
The field didn't get its famous AstroTurf until 1966. That first season, it was believed the translucent dome would allow enough light for grass to grow naturally. After a year of dead grass, Monsanto installed a short pile artificial turf called ChemGrass. It earned the nickname AstroTurf because of where it was installed.
Houston Astros groundskeepers drag the infield wearing mock spacesuits circa 1966.
The Astros left the dome in 2000 for a new ballpark, currently named Minute Maid Park. But astronauts still appear at games, sometimes throwing the first pitch.
The STS-135 crew throw out the first pitch at Minute Maid Park on September 13, 2011. Image source: Houston Chronicle.
---
UPDATE April 18, 2015 — On their April 9 telecast, Astros broadcasters remember the Houston Astrodome, showing clips from when the stadium opened in 1965.