A promotional video for Pad 39C. Video source: NASAKennedy YouTube channel.
Once upon a time, Kennedy Space Center was going to have three launch pads.
The pad known to history as 39A was originally going to be 39C. According to Moonport: A History of Apollo Launch Facilities and Operations:
At the time of the original siting of launch complex 39, the three projected launch pads were designated in accordance with standard Missile Test Center practice from north to south as pads A, B, and C. In January 1963, to bring the identification system in line with construction and operational use schedules, the pad designations were reversed, the southernmost becoming pad A.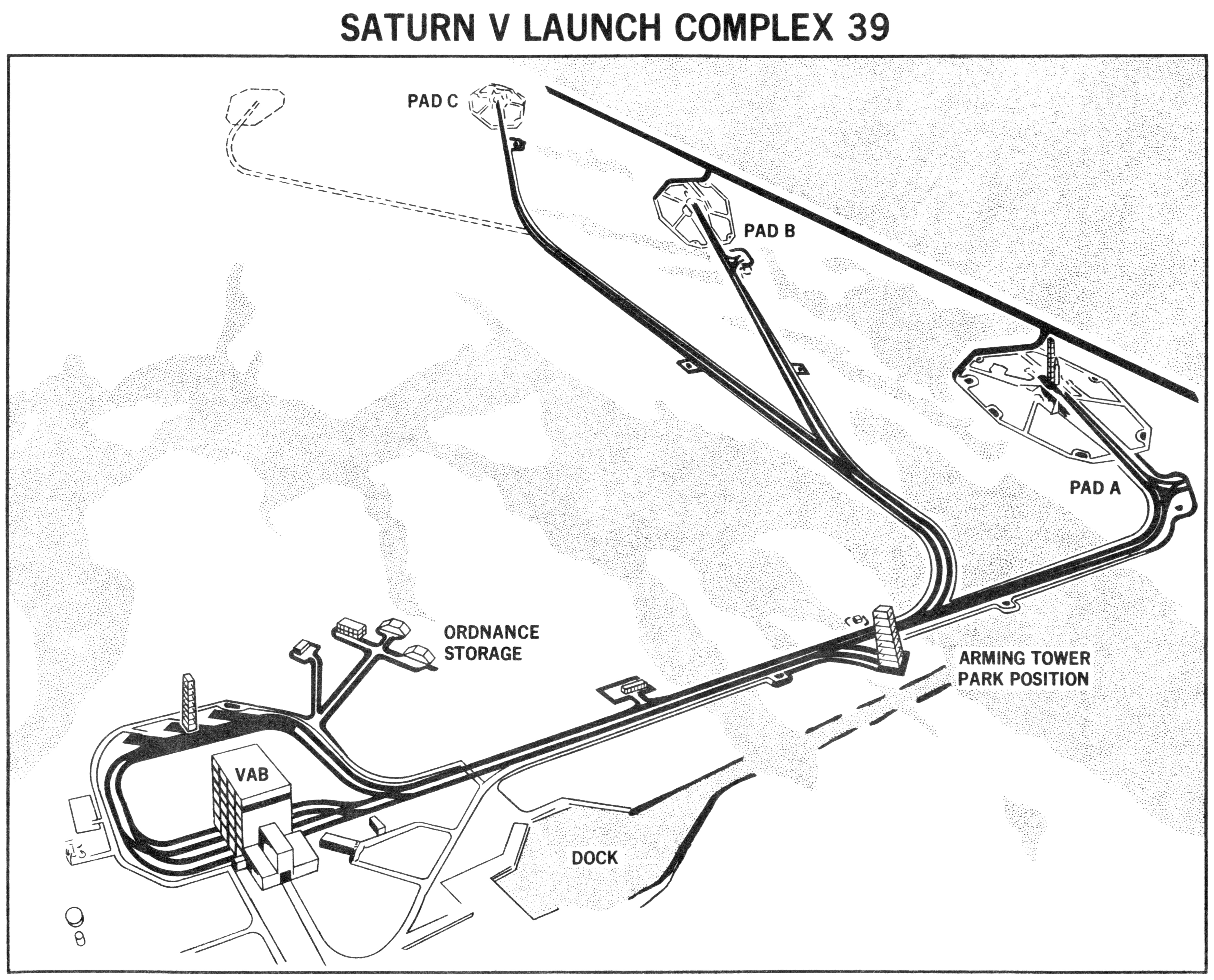 A 1960s illustration of proposed Kennedy Space Center launch pads. Image source: HeroRelics.org.
The below 1960s image shows the warning lamps for the three pads. The sign was aligned with the lamps north to south, which would have been the original configuration. This sign still exists today, across the street from the Launch Control Center, although the lamp for 39C was long ago removed.
A 1960s era image of the warning lamps for the three KSC pads. Image source: NASA.
Pad 39A today is leased to SpaceX for the new Falcon Heavy rocket. Pad 39B is being upgraded for NASA's Space Launch System, although theoretically it can be a multiuser facility should any commercial customers show interest.
NASA today christened an official Pad 39C. It's really a subset of 39B, an area of land cleared to erect a concrete stand that can be used for Small Class Launch Vehicles.
According to KSC's Partnerships web site:
Launch Complex 39C will serve as a multi-purpose site allowing companies to test vehicles and capabilities in the smaller class of rockets, making it more affordable for smaller companies to break into the commercial spaceflight market.
An artist's concept of the new launch stand at Pad 39C. Image source: NASA.
A layout of Pad 39C facilities. Image source: NASA.
The above illustration shows a layout of 39C facilities. It supports liquid oxygen (LOX) and liquid methane (LCH4) as the oxidizer and fuel, respectively.
According to the KSC Partnerships Small Class Launch Vehicles web site, the propellant system "is also adaptable to other propellants (i.e. LH2, Kerosene)." RP-1 kerosene has been the fuel of choice for many decades. Liquid hydrogen (LH2) is used today on the ULA Delta IV, and was used by the Saturn V and Space Shuttle, but is expensive to use.
A prime candidate for 39C might be Blue Origin. Florida Today reported April 9 that state agency Space Florida is courting Blue Origin for Pad 36 at the Cape. Pad 36 is leased by Space Florida from the U.S. Air Force. The state agency has been seeking potential tenants. Blue Origin is being courted by several states; it's possible that KSC might offer the company another option in cooperation or competition with Space Florida.
The state for years has sought to build its own launch facility at the proposed Shiloh site near the Volusia County border at the north end of KSC. The proposal ran into fervent opposition from environmentalists, and would require NASA to relinquish about 150 acres of land, which it has shown no inclination to do. Blue Origin was once considered a potential Shiloh tenant.
Blue Origin is working on the BE-4 engine for United Launch Alliance. The BE-4 would use LOX as an odidizer and liquified natural gas — a commercially available form of methane — as the fuel.
Video of the Blue Origin New Shepard test flight on April 15, 2015 at the company's west Texas launch site. Video source: Blue Origin YouTube channel.
Blue Origin's New Shepard suborbital vertical takeoff, vertical landing system might also be a candidate for 39C. Its BE-3 engine uses LOX and LH2.
The SpaceX next-generation Raptor engine will also use methane.
Masten Space Systems is researching various reusable launch vehicles and landers that might also take advantage of the facility.
According to Florida Today, "NASA said up to a dozen companies have expressed interest in the facility, but there are no confirmed customers yet."
Pad 39C obviously won't make use of the center's iconic transporter-crawler system. KSC issued a request for proposals June 15 for any commercial companies that might want to use High Bay 2 of the Vehicle Assembly Building. The bay does open to the gravel-topped crawlerway, but it's unlikely that any commercial company would want to use the half-century old transporting system due to the inefficiency and costs of vertical transportation over such a long distance.
Transportation of these small class vehicles is likely to be by truck, similar to the early days at Cape Canaveral Air Force Station.
A 1960 NASA documentary on the first Mercury-Redstone uncrewed test flight. Video source: Tomorrow Always Comes YouTube channel.
The above video shows how the Mercury-Redstone was transported by flatbed truck to the Cape's Pad 5. In the center of the concrete pad was a ring stand. A crane was used to lift the rocket from the flatbed into a vertical position, then placed on the ring stand.
The Mercury-Redstone at a height of 83 feet and thrust of 78,000 pounds today would be considered a small class launch vehicle, so it would be quite happy at Pad 39C.