Click the arrow to watch the media event. Original video source: NASA.
Five months after Florida Today reporter James Dean broke the story, Blue Origin's tenancy at Cape Canaveral's Launch Complex 36 is finally official.
In a ceremony under a tent briefly pelted by rain, Blue founder Jeff Bezos and various government officials spent nearly an hour yesterday congratulating each other for this historic agreement.
Bezos pledged that an "orbital vehicle" of unspecified name would launch from Pad 36 by the end of the decade. It would build on the company's New Shepard suborbital technology that had its first test flight last April 29 at its test facility in west Texas.
The pad will also be used for "acceptance testing" of Blue's BE-4 engine. The BE-3, used in the April test flight, burns liquid oxygen as the oxidizer and uses liquid hydrogen as the fuel. The BE-4 will substitute liquefied natural gas for the liquid hydrogen, and is designated as the engine for the United Launch Alliance Vulcan rocket scheduled for use in the 2020s.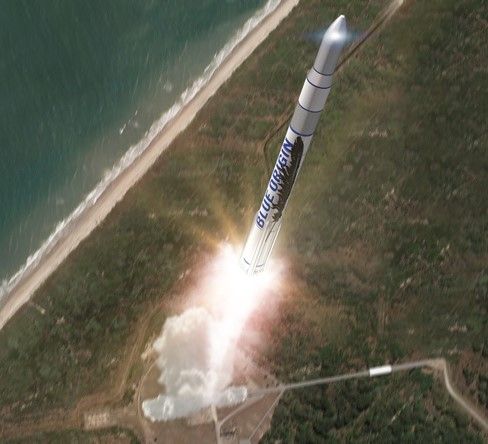 An artist's concept of the Blue Origin orbital vehicle. Image source: Blue Origin.
Blue will also move into Exploration Park, providing Space Florida for the anchor tenant it's sought for over five years. Space Florida broke ground on Exploration Park in June 2010, but after installation of underground utilities it's sat dormant for years.
More on the Blue story in this Florida Today article.