Click the arrow to watch a Dream Chaser cargo promotional film. Video source: SNCspacesystems YouTube channel.
Sierra Nevada released yesterday a promotional video for its Dream Chaser cargo variant, coinciding with the appearance of its space systems vice president Mark Sirangelo at the International Symposium for Personal and Commercial Spaceflight in Las Cruces, New Mexico.
The Denver Post reported on Sirangelo's remarks. (The Dream Chaser team is based in Louisville, Colorado.)
After Louisville-based Sierra Nevada Space Systems lost the NASA bid to ferry astronauts to and from the International Space Station, many wondered about the future of its Dream Chaser spacecraft.
But rumors of its demise were greatly exaggerated: Space Systems chief Mark Sirangelo said Wednesday that two versions of Dream Chaser will begin flight tests early next year.
"We've come a long way — despite not having the NASA money — and we've been freed up to advance more rapidly," he said in an interview. "In some ways, because no one was focusing on us, we've been able to get a lot more done."
SNC is still working on a crew version of Dream Chaser, although they did not get one of the first NASA commercial crew contracts. Work continues under a contract awarded in an earlier round of competition.
The company has also submitted a proposal to ferry cargo to the ISS. NASA requested proposals in September 2014 for a second round of commercial resupply services, called CRS-2. In addition to SNC, it's believed that SpaceX, Orbital ATK, Boeing and Lockheed Martin also submitted bids.
SpaceX and Orbital, the two companies that currently have commercial cargo contracts, suffered accidents in the last year and for now are grounded. SpaceX may resume Dragon cargo flights by the end of 2015. Orbital will launch two Cygnus deliveries on an Atlas V at Cape Canaveral's Launch Complex 41, scheduled for December and March, until their redesigned Antares booster is ready to launch from Wallops, Virginia in mid-2016.
The Wall Street Journal reported October 1 that LockMart had been eliminated by NASA from CRS-2, although the report remains unverified.
Dream Chaser's only test flight was October 2013, when the spaceplane was dropped by a helicopter to land on a runway at Edwards Air Force Base. Dream Chaser flew to its landing as planned, but one landing gear failed to deploy, causing the prototype to skid off the runway.
SNC has signed development deals with the European Space Agency and the Japanese Exploration Agency. The new video shows Dream Chaser encased in fairing atop an ESA Ariane V. SNC has also pursued deals to land Dream Chaser at runways in Houston and Huntsville, as well as Kennedy Space Center. The company has purchased a United Launch Alliance Atlas V launch scheduled for November 2016 to be the first uncrewed test mission for Dream Chaser.
A guaranteed government revenue source would give SNC some much needed credibility. Without a CRS-2 contract, the company would be left looking overseas for government patrons, suggesting that Dream Chaser would also launch overseas.
In October 2014, Sierra Nevada and Stratolaunch announced an agreement to explore a mini-Dream Chaser to fly on the horizontal launch aircraft currently under construction at the Mojave Air & Space Port in the high desert of Southern California. But neither has any customers to date, government or commercial.
SNC yesterday also issued a press release with a photo of the Engineering Test Article (ETA) and a schedule update for upcoming tests.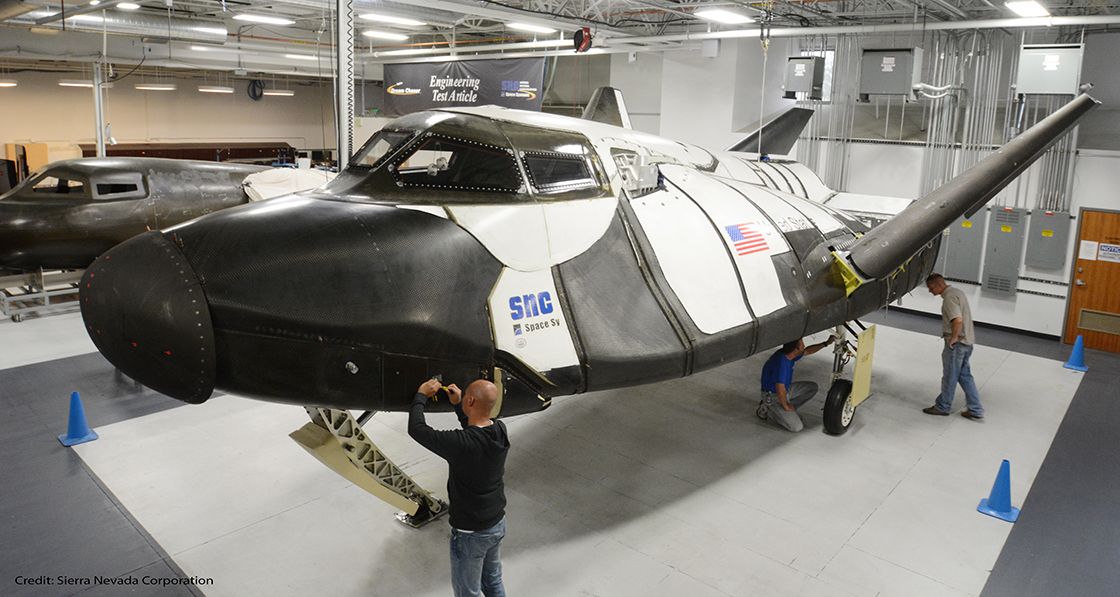 The Dream Chaser Engineering Test Article. Click the image to view at a larger size. Image source: Sierra Nevada Corporation.
The press release concludes:
SNC has designed the Dream Chaser Cargo System as a solution for NASA's commercial transportation services needs under the Cargo Resupply Services 2 contract and for other fully autonomous orbital missions.
By the way, the nose and leading wing-edges of Dream Chaser are made from a high-temperature material called TUFROC developed by NASA at Kennedy Space Center. According to a June 2015 SNC press release:
The TUFROC test articles were manufactured in Kennedy's historic Thermal Protection System Facility to SNC's specifications as part of the TUFROC technology transfer from Ames to SNC.
NASA licenses TUFROC to interested commercial parties.
The Toughened Uni-Piece Fibrous Reinforced Oxidation-Resistant Composite (TUFROC) represents an exciting leap in reusable thermal protection systems (TPS) technology that allows for much more affordable and sustainable operations involving Space Launch Services and other systems that utilize Earth re-entry vehicles. TUFROC has an exposed surface design and appropriate materials combination for a space vehicle that will survive the mechanical stresses induced in the initial ascent and will subsequently survive the extreme heating and mechanically stressful environment of re-entry. It provides a thermal protection tile attachment system, suitable for application to a space vehicle leading edge and for other uses in extreme heating environments (up to 3600° F., and possibly higher, for short time intervals).
Giving SNC a CRS-2 contract could translate into NASA creating more jobs at KSC in the TPS Facility. Never underestimate job creation as a motivating factor in NASA decisions.