January 14, 2004 ... President George W. Bush announces the Space Shuttle will retire once the International Space Station is completed.
NASASpaceflight.com posted an article January 13 with statements from a few presidential candidates they were able to ask about NASA and the U.S. space program.
Here's the response they received from former Florida governor Jeb Bush:
According to Bush, "I think that the idea that we do not have a replacement for the Space Shuttle, that we mothballed it and didn't have a replacement, is outrageous.
"When we have to rely on the Russians to get payload up to the Space Station, that's just totally wrong. And the lack of planning, the lack of interest in this I think is dangerous for our national security, for our military purposes."
Conveniently overlooked in Jeb's response is that his brother George was the one who made those policy decisions — twelve years ago today.
In his Vision for Space Exploration speech on January 14, 2004, President George W. Bush announced that the Space Shuttle would fly only to complete the International Space Station, then be retired.
Bush proposed a new program eventually called Constellation that would be funded by ending the ISS in 2015. A chart released by NASA two weeks later showed a four-year gap between the end of the Shuttle program and the first flight of the new "Crew Exploration Vehicle."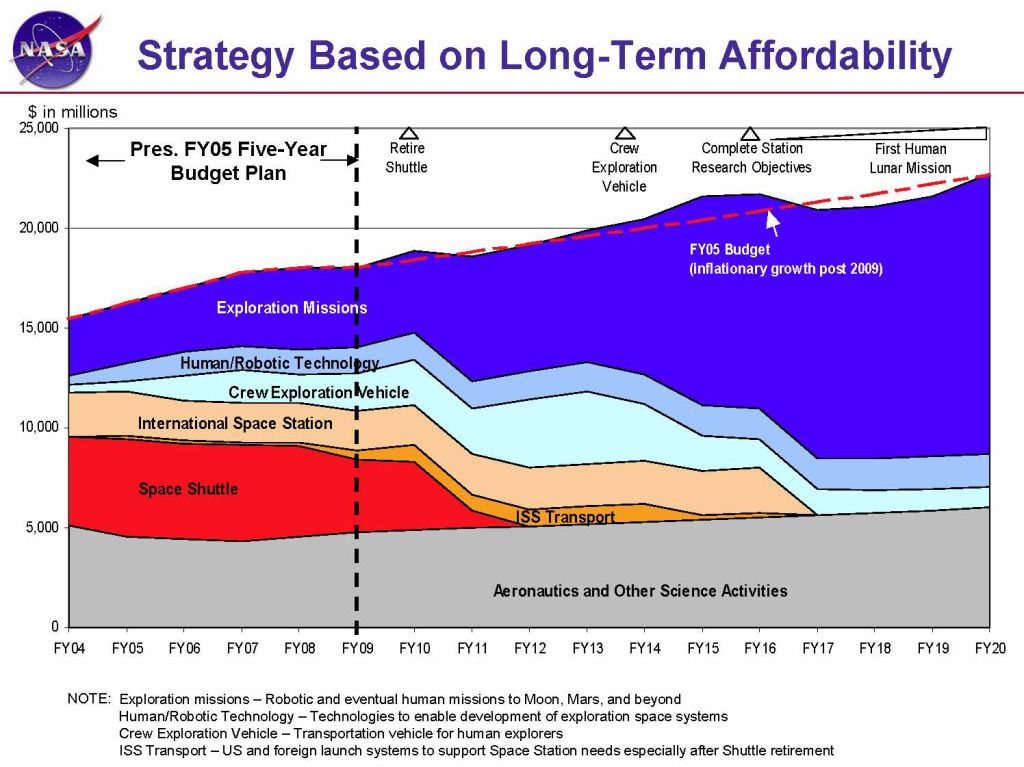 Click here to download the Vision Sand Chart from the NASA web site. The free Adobe Acrobat Reader is required.
Former Space Shuttle manager Wayne Hale wrote in August 2008 that NASA calculated how many flights would be needed to complete ISS, ordered parts to complete those missions, then began to shut down the supply chain. By the time of Hale's column, with George Bush still President, it was all but impossible to restart the Shuttle program.
The decision to rely on Russia was also made in 2004. After the Columbia accident on February 1, 2003, ISS crew rotations moved over to the Soyuz. Implicit in the four-year gap was continued reliance on Russia until a domestic replacement was ready.
More in my January 14, 2014 column, "VSE + 10".