The first commercial crew astronauts, left to right: Bob Behnken, Suni Williams, Eric Boe and Doug Hurley. Image source: NASA.
'Tis the season for end-of-year highlight lists and predictions of what is to come in the year ahead.
Let's take a different approach.
So much is already planned for 2016 that predictions are unneeded.
I believe 2016 will be the most exciting year for space advocates since the early days of the space program in the 1960s.
Here's what lies ahead for you.
Space Launch System/Orion Crew Vehicle Schedule Update — The 2010 legislation mandating NASA develop SLS directed that it launch an uncrewed test flight with Orion by December 31, 2016. That schedule already has slipped by two years, and NASA management continues to evade a firm commitment on a launch date.
During a September 2015 teleconference NASA executives downplayed the importance of a firm launch date for Exploration Mission 1 (EM-1). claiming that what's truly important is the launch date for EM-2, the first SLS/Orion mission with crew. But that date has slipped as well, to somewhere in the vicinity of 2023.
An update on the EM-1 launch date is expected sometime in the first quarter of this year, but as I wrote in November 2015 NASA Administrator Charlie Bolden has indicated twice on the record that EM-1 most likely will be sometime after 2018.
For now, the official estimate is November 2018.
Commercial Crew — The Boeing CST-100 Starliner and SpaceX Crew Dragon are in various stages of uncrewed tests. By the end of 2016, we may have seen the first uncrewed test flights, and have estimated dates for the first flights with astronauts aboard. The first Dragon test flight is planned for late 2016 from Kennedy Space Center's Pad 39A.
We can have some faith now in the Commercial Crew schedule, because last month Congress for the first time fully funded the President's budget request for that program. Cuts in previous years delayed the program by at least two years, extending NASA reliance on Russia for International Space Station access through at least the end of 2017, and possibly longer.
Commercial Cargo — Sometime this month, NASA should announce the next round of Commercial Cargo vendors. Incumbents SpaceX and Orbital ATK remain the favorites, although it's possible that the Sierra Nevada Corporation's Dream Chaser may finally get a contract.
Computer animation of the cargo Dream Chaser. Video source: SNCspacesystems YouTube channel.
SNC just missed receiving a Commercial Crew contract in late 2014, and filed an unsuccessful protest. Although the company has development deals with the European and Japanese space agencies, without a NASA contract it will be more difficult for SNC to justify further spending on Dream Chaser.
Habitat Module — Space News reported on December 28 that the 2016 omnibus spending bill "directs NASA to accelerate work on a habitation module that could be used for future deep space missions, although how NASA will implement that direction is unclear."
"NASA shall develop a prototype deep space habitation module within the advanced exploration systems program no later than 2018," the report states. It also requires NASA to provide Congress with a report within 180 days of the bill's enactment on the status of the program and how it has spent the funds provided.
In March 2015, NASA awarded contracts to seven companies to study "habitation systems."
Habitation systems selections will help define the architecture and subsystems of a modular habitation capability to enable extended missions in deep space.
Bigelow Aerospace, one of the seven, will fly to the ISS on SpaceX CRS-8 in February its prototype, the Bigelow Expandable Activity Module (BEAM). Based on NASA TransHab technology developed in the late 1990s, the Bigelow modules could be used as self-sustaining space stations, crew quarters for a long-duration deep space mission, or as base stations on the Moon or Mars.
A computer animation of the Bigelow BEAM attaching to the ISS. Video source: NASA.gov Video YouTube channel.
The omnibus bill provides $55 million for the habitat prototype, and gives NASA three years to complete it, so Bigelow would seem to be ahead of the competitors.
Microgravity Research
— More projects are headed for the ISS in 2016 that are deserving of your attention.
Grimm Space Research at Aarhus University in Denmark will send on SpaceX CRS-8 its third thyroid cancer experiment. As I wrote in October 2015, earlier research showed that in microgravity the cells became less aggressive. The ESA SPHEROIDS experiment is the next step in their research.
U.S. pharmaceutical company Merck will send to the ISS on SpaceX CRS-9 an experiment to go beyond research and actually produce a drug in microgravity. Dr. Paul Reichert hopes this research can eliminate the need for intravenous drug delivery, relying instead on a single shot with a needle.
Click the arrow to watch a Merck promotional film about Dr. Reichert. Video source: Merck YouTube channel.
Also on SpaceX CRS-9 will be an experiment from Zero Gravity Solutions Inc. in Boca Raton, Florida. ZGSI will test its proprietary BAM-FX plant nutrient technology on broccoli in microgravity. The experiment is particularly timely, because NASA's attempt to grow zinnias on the ISS isn't going very well. According to Florida Today reporter James Dean:
The relatively simple Veggie chamber lacks active irrigation systems, so astronauts have been injecting water into the seed pillows. It's difficult to tell if they have too much water or not enough, striking the right balance of moisture and air in the root zones ...
Since they were first installed and watered on Nov. 16, only three zinnia plants have flourished, with at least one developing a flower bud.
Reusable Rockets — SpaceX made history on December 21, 2015 when the company's Falcon 9 first stage successfully landed at Cape Canaveral Air Force Station.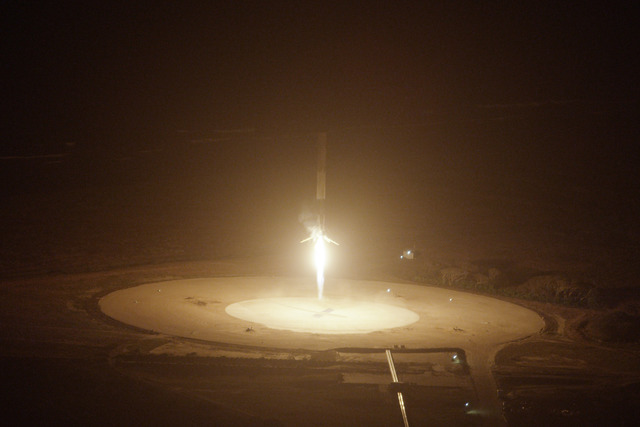 A SpaceX Falcon 9 first stage lands December 21, 2015 at Cape Canaveral Air Force Station. Image source: SpaceX.
SpaceX founder Elon Musk said that this booster won't fly again, but its engines will be fired to test the renovations at Kennedy Space Center's Pad 39A. The company hopes to recover a second booster sometime in 2016 and fly it again to prove the technology is viable.
The United Launch Alliance Vulcan rocket will continue design work in 2016. Unlike the F9, the Vulcan first stage won't be fully reusable. ULA hopes only to recover the engines, which the company believes is the most cost-efficient. ULA CEO Tory Bruno has stated that parent companies Boeing and Lockheed Martin review the project quarterly, so it's possible that mom and dad might decide to cancel the project now that ULA can once again legally purchase Russian RD-180 engines for the Atlas V booster.
Adventure Tourism — Blue Origin took the lead in the adventure tourism space race with its November 23, 2015 successful test flight of its New Shepard suborbital system to the edge of space, defined by international standard as 100 kilometers (62 miles) and known as the Karman Line. More test flights can be expected in 2016, while Blue prepares to begin operations later in the decade at Cape Canaveral Air Force Station's Launch Complex 36. Blue will move into Exploration Park near the Kennedy Space Center Visitor Complex; the industrial park has lacked a tenant since property manager Space Florida broke ground in 2010. Maybe we'll see Blue start building its facilities this year.
Click the arrow to watch a Blue Origin promotional film of the New Shepard landing. Video source: Blue Origin YouTube channel.
Virgin Galactic struggles to resume to flight after losing VSS Enterprise in an October 2014 accident. A replacement, possibly named VSS Unity, could fly sometime in 2016. But passengers who for years have patiently waited to fly after depositing $200,000 probably won't reach the Karman Line in 2016.
XCOR announced on November 23, 2015 the departure of two founders as part of a corporate restructuring. Last month the company announced a "major breakthrough in engine technology" with the Lynx main propulsion rocket engine, but when it will fly remains an open question.
Venture Class Launch Services — In October 2015, NASA announced a new program called Venture Class Launch Services. Contracts were awarded to three contracts to provide access for small satellites to low Earth orbit.
One of those vendors is Virgin Galactic, which acquired from Virgin Airlines a used 747 to carry the LauncherOne booster. The aircraft would take off from a runway and drop the launcher from an unspecified altitude. From a cynical perspective, one might speculate that Virgin Galactic is diversifying should the adventure tourism business fail.
Click the arrow to watch a computer animation of Virgin Galactic's LauncherOne. Video source: Virgin Galactic YouTube channel.
One of the two other companies, Firefly Space Systems, already has committed to launch from KSC's new pad 39C, a concrete slab within the perimeter of Pad 39B. The third vendor, Rocket Labs, is looking at KSC as one of several potential launch sites.
None of these are expected to fly in 2016, but their progress and commitment to KSC as a launch site will help measure the success of NASA's latest attempt to grow a commercial launch industry.
CubeSats — Call them CubeSats, SmallSats or NanoSats, but this is the next growth industry in aerospace and NASA is helping with a program called Cube Quest.
Click the arrow to learn more about Cube Quest. Video source: NASA's Marshall Center YouTube channel.
CubeSats for years have been popular with student teams learning how to engineer satellites. The Cube Quest Challenge will award a total of $5.5 million to teams "that meet the challenge objectives of designing, building and delivering flight-qualified, small satellites capable of advanced operations near and beyond the moon." Some of the winners may fly on the Space Launch System EM-1 mission.
In November 2015, United Launch Alliance a competition for cubesats to fly for free as secondary payloads on their launches.
"ULA will offer universities the chance to compete for at least six CubeSat launch slots on two Atlas V missions, with a goal to eventually add university CubeSat slots to nearly every Atlas and Vulcan launch," said Tory Bruno, ULA president and CEO. "There is a growing need for universities to have access and availability to launch their CubeSats and this program will transform the way these universities get to space by making space more affordable and accessible."
Even grade schools now launch cubesats. St. Thomas More Cathedral School in Arlington, Virginia launched a cubesat aboard the Orbital ATK Cygnus commercial cargo ship on December 6, 2015. Called STM Sat-1, it's scheduled for deployment on February 15 from the JEM Small Satellite Deployer aboard Japan's Kibo laboratory. Its Earth observation cameras will transmit pictures back to the school.
Solar System Robotic Exploration — Planetary science fans will have lots to love in 2016.
NASA's Juno mission to Jupiter arrives at the gas giant on July 4, 2016. Juno will study the planet's atmosphere, map its magnetic and gravity fields, and study the auroras near the poles.
The European Space Agency's ExoMars mission to Mars launches from Baikonur, Kazakhstan in March. "The main objectives of this mission are to search for evidence of methane and other trace atmospheric gases that could be signatures of active biological or geological processes and to test key technologies in preparation for ESA's contribution to subsequent missions to Mars," according to the mission web site.
NASA'a OSIRIS-REx mission to the asteroid Bennu intends to map the asteroid and return a sample. It's scheduled to launch from the Cape's Launch Complex 41 aboard an Atlas V on September 3. According to the mission's web site, "Bennu is also one of the most potentially hazardous asteroids and it has a relatively high probability of impacting the Earth late in the 22nd century."