Click the arrow to watch the WKMG-TV Channel 6 Orlando report of the media event.
After months of rumors, OneWeb and Space Florida finally announced on April 19 that the startup small satellite company will establish operations at Kennedy Space Center's Exploration Park.
OneWeb is a partnership of Virgin Galactic and Airbus, among other major corporate investors.
A June 2015 OneWeb Constellation promotional film. Video source: Airbus Defence and Space YouTube channel.
James Dean of Florida Today reports:
A state-of-the-art factory opening next year at Kennedy Space Center will put the Space Coast at the forefront of a new type of space business: mass production of satellites.
OneWeb Satellites on Tuesday confirmed plans to crank out as many as 15 small communications spacecraft a week from its assembly line, work expected to create 250 jobs in the 120,000 square foot facility to be built in KSC's Exploration Park on Merritt Island.
That's a blazing pace in an industry that typically takes months to put together large communications satellites that may cost hundreds of millions of dollars.
"Satellites today are really manufactured in artisan way: It's labor intense, very hands on, and it takes a long time," said Brian Holz, CEO of OneWeb Satellites. "We're going to build one in an 8-hour shift."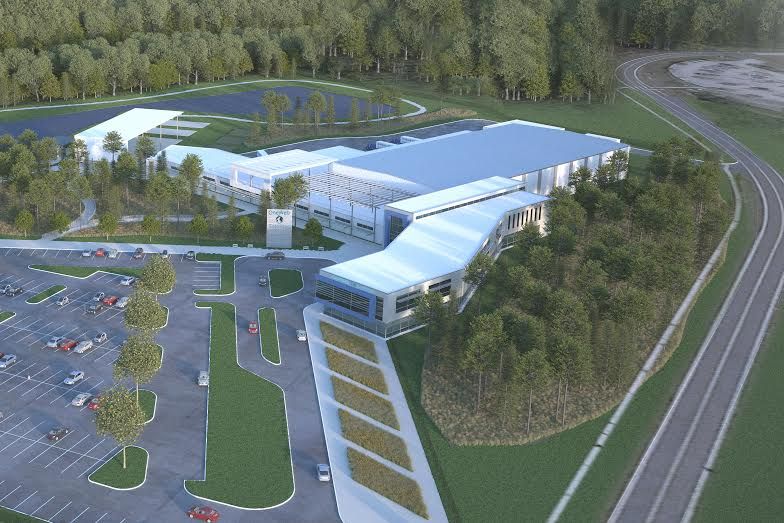 An artist's concept of the OneWeb manufacturing facility. Original image source: OneWeb.
OneWeb founder Greg Wyler told WKMG-TV that some of what they call "microsats" could be launched from Virgin Galactic's LauncherOne system using KSC's former Space Shuttle runway.
In October 2015, Virgin Galactic received a contract from NASA's Venture Class Launch Services program to demonstrate its ability to deploy a smallsat into orbit. According to the press release, that demonstration flight will occur at the Mojave Air & Space Port.
Click the arrow to watch the LauncherOne promotional film. Video source: Virgin Galactic YouTube channel.
OneWeb intends to create a space Internet with a global constellation of its microsats. The necessary orbits and trajectories will require launches from around the world. In the WKMG interview, Wyler mentioned the Russian launch site in Baiknour, Khazakhstan and the European Space Agency launch site near the equator in Kourou, French Guiana as other locations the company may use.
For Space Florida, OneWeb is the second major tenant to move into Exploration Park. In September 2015, Blue Origin announced its plans to establish operations at the site.
Before that, the state agency had failed for more than five years to find an anchor tenant for the site, after groundbreaking in June 2010.
Click the arrow to watch the Exploration Park media event. Video source: CCI321 YouTube channel.