An illustration comparing Blue Origin New Glenn launch vehicles to other rockets. Click the image to view at a larger size. Image source: Blue Origin.
While rival SpaceX tries to figure why its Falcon 9 went kaboom during a tanking test, Blue Origin announced yesterday its first orbital launch vehicle that could provide SpaceX customers with a viable alternative.
Blue Origin founder Jeff Bezos wrote in an email to the company's subscribers:
Building, flying, landing, and re-flying New Shepard has taught us so much about how to design for practical, operable reusability. And New Glenn incorporates all of those learnings.
Named in honor of John Glenn, the first American to orbit Earth, New Glenn is 23 feet in diameter and lifts off with 3.85 million pounds of thrust from seven BE-4 engines. Burning liquefied natural gas and liquid oxygen, these are the same BE-4 engines that will power United Launch Alliance's new Vulcan rocket.
The 2-stage New Glenn is 270 feet tall, and its second stage is powered by a single vacuum-optimized BE-4 engine. The 3-stage New Glenn is 313 feet tall. A single vacuum-optimized BE-3 engine, burning liquid hydrogen and liquid oxygen, powers its third stage. The booster and the second stage are identical in both variants.
We plan to fly New Glenn for the first time before the end of this decade from historic Launch Complex 36 at Cape Canaveral, Florida. New Glenn is designed to launch commercial satellites and to fly humans into space. The 3-stage variant — with its high specific impulse hydrogen upper stage — is capable of flying demanding beyond-LEO missions.
Our vision is millions of people living and working in space, and New Glenn is a very important step. It won't be the last of course. Up next on our drawing board: New Armstrong. But that's a story for the future.
Gradatim Ferociter!
The Orlando Sentinel reported on September 7 that, in addition to Space Launch Complex 36, Blue Origin also plans to use the adjacent SLC-11.
The plan was revealed in permit applications with the St. Johns River Water Management District, which oversees permitting on that land.
The permits hint at a plan to test rockets onsite while launching from the launch pad.
Nearly one year ago, Bezos announced that the company would launch rockets from SLC 36.
In the permit, the company said it would "contstruct and operate an orbital launch site at Cape Canaveral Air Force Station's (Space Launch Complex) 11 and SLC-36."
In the permit application, the company also referenced its efforts to recover launched vehicles, which Blue Origin has done multiple times in west Texas.
"The existing launch complex will be updated to include infrastructure to test engines, integrate launch vehicles and launch orbital vehicles as well as support systems to recover and refurbish launch vehicles," the permit read.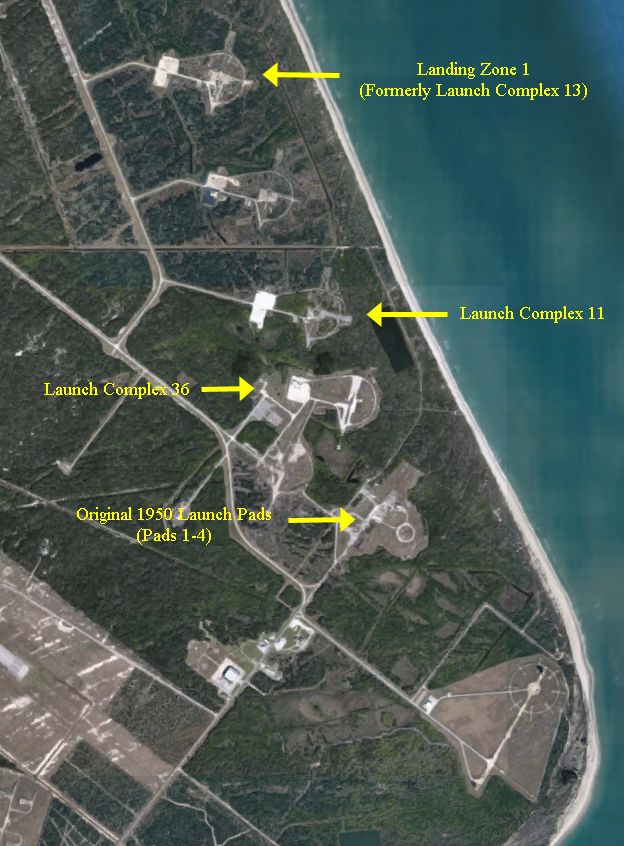 Launch pads on the tip of Cape Canaveral. Click the image to view at a larger size. Image source: Google Earth.
The Blue Origin pads are near the tip of the Cape, and some of the most historic launch sites in the history of the U.S. space program.
Pad 3 was used in July 1950 to launch the first Cape rockets. The Bumpers were modified V-2s. The adjacent Pad 4 was used in 1953-1954 for the first test launches of the Redstone booster, which were eventually used in 1961 at Launch Complex 5/6 to send the first two Americans into suborbital flight.
SLC-36 was built for the venerable Atlas-Centaur that launched many of the earliest probes to the Moon, Mercury, Venus and Mars, as well as commercial communications satellites. Its last launch was in February 2005.
SLC-11 was used for some of the earliest Atlas series uncrewed flights. Perhaps the most famous was the SCORE launch in December 1958. The U.S. Army's Signal Communication by Orbiting RElay satellite played a recording by President Eisenhower, broadcasting to the world a Christmas message by short wave radio.
December 18, 1958 ... An Atlas launches the Army's SCORE satellite. Video source: Jeff Quitney YouTube Channel.
Just north on ICBM Road, past SLC-12, is the SpaceX Landing Zone 1, formerly known as Space Launch Complex 13. Two of the six Falcon 9 landings have been at LZ-1, with the other four on a drone ship in the Atlantic Ocean.
Blue Origin plans to land its New Glenn boosters too, both by land and by sea. In March 2014, Blue was awarded a patent for "sea landing of space launch vehicles", but SpaceX filed an appeal. The U.S. Patent and Trademark Office in March 2015 largely agreed with SpaceX, and in August 2015 Blue cancelled its patent.
SpaceX COO Gwynne Shotwell said today in Paris that SpaceX hopes to be launching off Kennedy Space Center's Pad 39A by November, along with polar orbit missions at Vandenberg AFB in southern California. This assumes, of course, that SpaceX has determined a cause for the September 1 failure.
SpaceX also acknowledged that the first Falcon Heavy launch is delayed to at least the first quarter of 2017.
The 2004 presidential commission chaired by Chairman Pete Aldridge proposed "building a robust space industry" that was the first bureaucratic step towards today's NewSpace movement:
The Commission finds that sustaining the long-term exploration of the solar system requires a robust space industry that will contribute to national economic growth, produce new products through the creation of new knowledge, and lead the world in invention and innovation. This space industry will become a national treasure.
Twelve years later, the NewSpace Race is about to begin on the tip of the Cape, returning to where it all began sixty-six years ago.