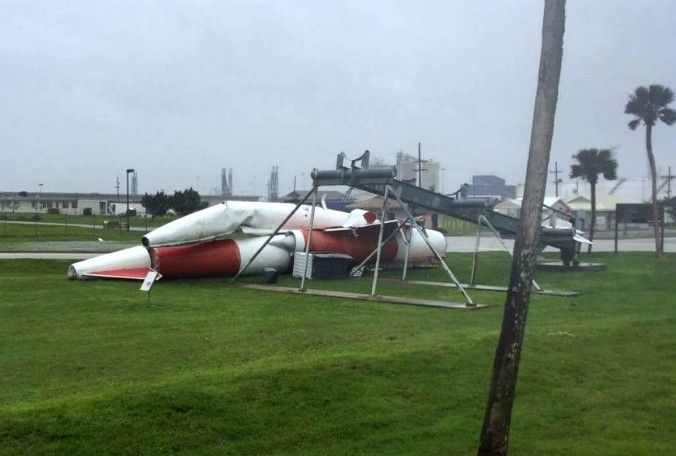 The Navaho cruise missile outside Cape Canaveral's Gate 1 was destroyed by the hurricane. Image source: Bright House News 13.
Hurricane Matthew drifted east, after days of drifting west, and seems to have largely spared the Space Coast from devastation.
The eye passed just east of the tip of Cape Canaveral, meaning most of the energy in the powerful northeast quadrant was out to sea.
But the damage assessment has only begun.
Florida Today reports that, "A 500-foot tower near KSC's Vehicle Assembly Building recorded a gust up to 132 MPH. Speeds averaged between 58 and 81 MPH, NASA said."
During the 2004 Hurricane Frances, the highest sustained wind was 68 MPH, with a gust of 94 MPH near the Mosquito Lagoon at the north end of KSC property.
NASA will conduct a "formal assessment" tomorrow morning to determine the extent of damage to its facilities. The article reported that the KSC Visitor Complex hopes to open on Sunday.
At Cape Canaveral Air Force Station, the U.S. Air Force hasn't announced any damage either, other than indicating they will wait for winds to calm down before assessment teams take to the field. Bright House News 13 posted the above image of the destroyed Navaho cruise missile that once graced the entrance to CCAFS. It was believed to be the only remaining Navaho cruise missile in existence.
We drove home to Merritt Island this afternoon from Orlando. Most of the damage was as we approached Highway U.S. 1, the Indian River, and points east. I saw many trees and signs down, but no building collapses or anything that would be considered catastrophic.
In our neighborhood, lots of tree debris and down fences. Some trees fell over on homes. I didn't see any home that lost a roof. The tract is about fifteen years old, so many property owners had replaced their roofs in the last year or two.
We have leaves, branches, and acorns in our driveway and yard, but that's about it. We didn't even lose power, although official reports stated that half of Brevard County at one point was without power.
The worst case scenario failed to play itself out. We'll await official reports of damage, but for now it looks like KSC and CCAFS survive to launch another day.