Click the arrow to watch the launch of SpaceX CRS-10. Video source: NASA YouTube channel.
The third generation of spaceflight began today at Kennedy Space Center, when SpaceX launched its Falcon 9 rocket from Pad 39A.
Eight minutes later, triple sonic booms announced the first stage landing at Cape Canaveral Air Force Station. The booster landed at the former Launch Complex 13, used for the early Atlas rockets, now renamed Landing Zone 1.
Less than twenty minutes after the landing, SpaceX founder Elon Musk posted this on Twitter:
Baby came back https://t.co/5FRhw3AT2b

— Elon Musk (@elonmusk) February 19, 2017
Later in the day, SpaceX released on YouTube this video of the landing.
The launch was postponed nearly 24 hours after Musk personally aborted the countdown at T-13 seconds. He was concerned about readings from a backup thrust vector control actuator on the upper stage. SpaceX lowered the rocket to horizontal overnight, replaced the actuator, then raised it to vertical again with the transporter erector.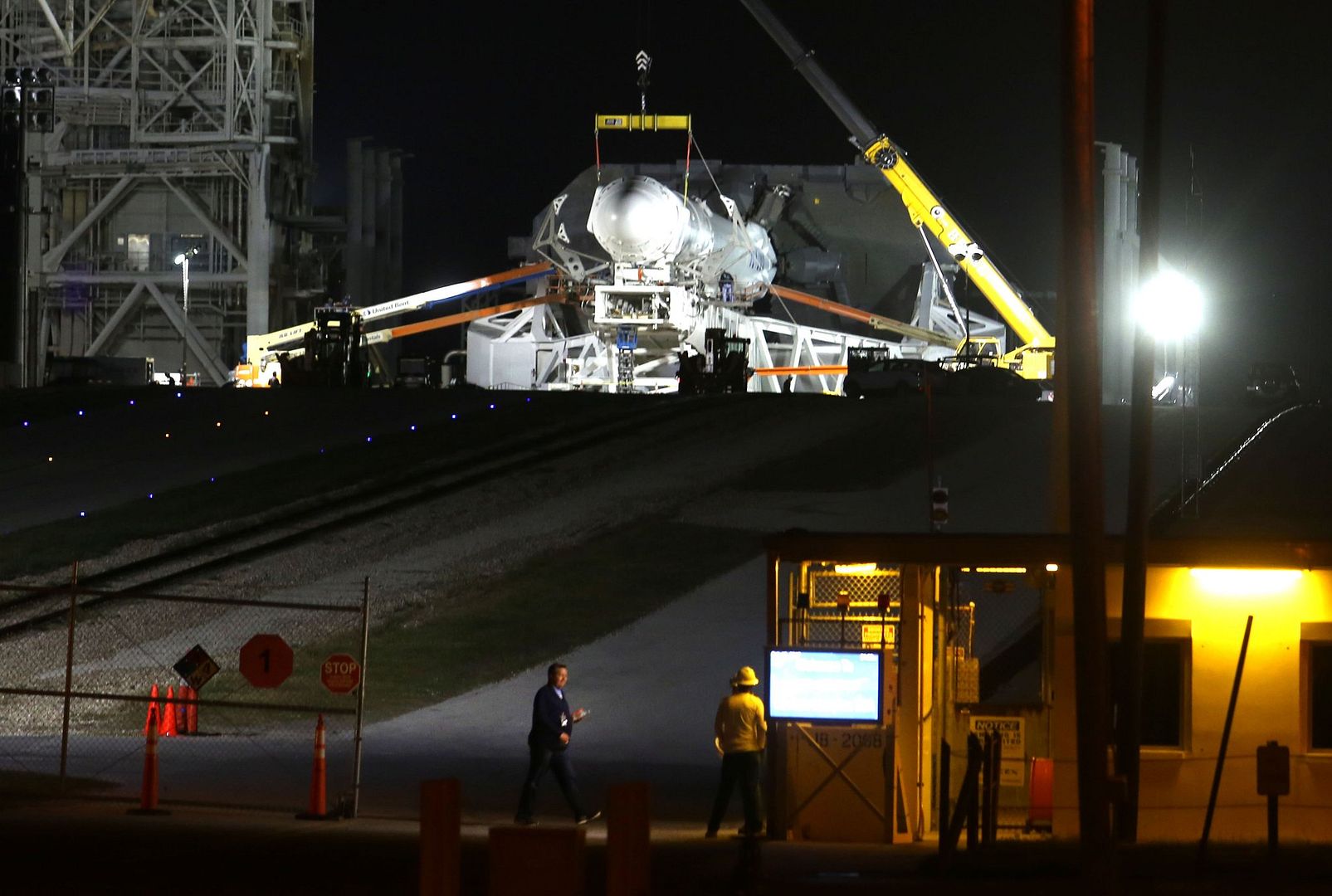 The lowered Falcon 9 is serviced overnight on Pad 39A. Image source: Red Huber, Orlando Sentinel.
Today's events are historic, but the future will place the launch in its historical context.
Nearly eight years passed between the last Saturn V launch from Pad A, the Apollo-Skylab launch on May 14, 1973, and the first Space Shuttle launch on April 12, 1981.
Nearly six years passed between the last Shuttle launch on July 8, 2011 and the first SpaceX launch from Pad A on February 19, 2017.
SpaceX intends as soon as this summer to use Pad A to launch its Falcon Heavy, three Falcon 9 boosters connected side-by-side, with a combined thrust of about 4.5 million pounds. That would make it the most powerful launch system currently operational on the planet.
Pad A may be used as early as 2020 to launch the SpaceX Red Dragon mission to Mars.
A video released by SpaceX in September 2016 showed a modified Pad A used to launch Musk's Interplanetary Transport System. Musk's stated goal is to evolve his technology so it can be used to colonize Mars.
Click the arrow to watch a computer generated concept of a SpaceX interplanetary transport launch. Video source: SpaceX.
Later this year, SpaceX intends to use Pad A for the first launch of a previously flown Falcon 9, perhaps as soon as March. The next cargo delivery to the International Space Station will be the first use of a previously flown Dragon. SpaceX will also use Pad A for sending crew members to the ISS. The uncrewed test flight of a crew Dragon is projected for the end of this year.
Click the arrow to watch the post-launch media briefing. Video source: NASA.