A 1964 recruitment short for Plus Ultra fictionally produced by "Walt Disney" and narrated by "Orson Welles." It didn't make the movie's final cut. Video source: Disney Movie Trailers YouTube channel.
"We have done a lot of thinking on a model community, and I would like to be a part of building one, a city of tomorrow, as you might say."
— Walt Disney
The Walt Disney Company movie Tomorrowland premiered in U.S. theatres on May 22, 2015.
Thanks to tepid critic reviews and a disastrous marketing campaign by Disney, Tomorrowland bombed at the box office. According to IMDB, the movie cost $190 million to make, and grossed only $209 million worldwide. By one estimate, Tomorrowland lost Disney about $120-140 million.
But an odd thing happened on the way to the DVD junk bin.
Tomorrowland developed a cult following.
I'm one of them.
I wrote a blog in June 2015, "In Defense of Tomorrowland," detailing how I'd fallen for the movie.
It took two viewings. The first time, I left the theatre with a negative impression, but my mind kept returning to the world of Plus Ultra, a secret society that believed optimism could build a better tomorrow. Tomorrowland existed on an alternate Earth in a parallel dimension. I found myself contemplating its implications for the future of humanity.
So I saw it a second time. And fell in love with Tomorrowland.
I wasn't the only one.
This film is not 'preachy' as many have lazily labelled, nor is it some modernistic advertisement for the environment; it is actually about asking 'why'. Why should we accept something bad, something unrewarding simply because it is easier to do so? Why do we accept war, chaos and desolation simply because the world presumes it is inevitable?
The Goshen, Indiana newspaper Goshen News published on June 11 a column by seventh grade teacher Paul Steury about how he used Tomorrowland in his classroom:
Like in Tomorrowland (a movie we watched at the end of the year because it talked about idealism vs. reality in Hollywood scientific terms), the future is scary.
But make sure you remember: You have the potential to change the future.
Anything is possible.
Don't give up. Don't ever give up.
Tomorrowland fan Nick Tierce keeps the flame burning, both on his web site Tomorrowland Times, and on Twitter at @TheTomorrowTime.
And on May 22, 2016, the one-year anniversary of the U.S. release, a "Tomorrownaut" posted on YouTube this trailer for a "Dreamer's Cut" that restores deleted scenes available on the Blu-Ray release.
Click the arrow to watch the Dreamer's Cut trailer. Video source: Tomorrownauts YouTube channel.
The trailer is a statement of defiance that, despite Disney's abandonment of the film, Tomorrowland still inspires. It also has a one-frame secret link to where you can watch the Dreamer's Cut online.
One restored scene occurs at Kennedy Space Center's Pad 39A, at the exact moment that a Plus Ultra device had predicted the apocalypse. Thanks to the optimistic efforts of our protagonists, the moment passes without incident. Optimism triumphs — for now.
Tomorrowland recruits in the film are issued a pin with certain powers. Replica pins are licensed by various vendors. The Funko Tomorrowland pin is widely available on eBay and popular among Tomorrownauts.
Funko's replica Plus Ultra recruitment pin.
Here at Kennedy Space Center, I'm aware of about twenty employees who wear T-pins every day at work. We're our own little Plus Ultra chapter. The film's ending implies that our heroes' efforts to build a better future are based at KSC. The gag is that we've been recruited to help build an optimistic future. Those who've seen the film instantly recognize the pin and ask about it.
Tomorrowland, of course, is named after the attraction at Disneyland in Anaheim and at Magic Kingdom in Orlando.
The first cut of the film had a far more direct connection between the fictional Tomorrowland and its amusement park namesake.
A May 20, 2015 Slashfilm interview with co-writer Damon Lindelof notes that the original script specifically stated Walt Disney was a member of Plus Ultra. The amusement park was to be a cover for Plus Ultra recruitment. (Plus Ultra's secret symbol is +U.)
This image of Walt Disney is on the wall of a science fiction collectibles store in the movie.
The final cut chose to downplay the connection but, if you're willing to pretend that +U is real, you can find much reason to think that Walt's recruitment center isn't the Tomorrowland attraction, it's EPCOT.
The film opens at the 1964 New York World's Fair. A fictional Hall of Invention is hosting an inventor's competition. Its true purpose is to identify potential Plus Ultra recruits.
Walt Disney had a significant presence at this World's Fair. Four Disney attractions premiered at the fair — Carousel of Progress, It's a Small World, Great Moments with Mr. Lincoln and Magic Skyway. Carousel of Progress and It's a Small World play an important role in the movie's early scenes.
Walt was already planning for his second amusement park attraction outside Orlando, quietly buying up land. Part of his vision was to build an Experimental Prototype Community of Tomorrow, or EPCOT. The early vision was of a master-planned community encompassing his amusement park attractions and those who lived there.
Disney died in 1966, and with him the original vision for EPCOT.
A 1966 film Walt Disney produced for Florida officials to explain his vision for EPCOT. He died about six weeks later. Video source: TheOriginalEpcot YouTube channel.
Walt was known to love world's fairs, and foresaw EPCOT as a permanent world's fair, rather than one torn down or abandoned at the end of its run.
In the Tomorrowland universe, world's fairs are a big part of +U history. Plus Ultra was founded in 1889 at the Exposition Universelle in Paris. The Eiffel Tower was designed by its founders as a device to search across the electromagnetic spectrum for a way to reach parallel universes.
The movie prequel novel Before Tomorrowland is set at the 1939 New York World's Fair. Plus Ultra plans to use the fair to reveal itself to the world ... but their plans go awry.
The animated short at the top of this article was to be seen by +U recruits once they entered a hidden chamber below It's a Small World. At the end it states that +U once again planned to reveal itself to the world, this time in 1984. The recruitment short was cut from the film, but it's on the Blu-Ray release (and opens the Dreamer's Cut).
The 1984 relevation never happens, due to events detailed in the movie. (By the way, the real 1984 World's Fair was in New Orleans.)
So let's surmise that Walt planned EPCOT to be not just a permanent world's fair, but also a permanent +U recruitment center.
Walt died before EPCOT opened sixteen years later. Or did he? Before Tomorrowland establishes that certain historic figures fake death to help +U establish Tomorrowland on the alternate Earth.
Either way, what if today's EPCOT is a +U recruitment site?
I recently visited EPCOT, and found lots of evidence to indulge that fantasy.
The Spaceship Earth attraction at the EPCOT entrance. Video source: iThemePark YouTube channel.
At the entrance is the Spaceship Earth. According to the Disney World web site, guests "enter the iconic geosphere for a look at the landmark moments that made today's communications technology possible." The geosphere and the attraction's original script were created in part by science fiction author Ray Bradbury.
But the real giveaway is the end of the attraction.
Guests exit into "Project Tomorrow."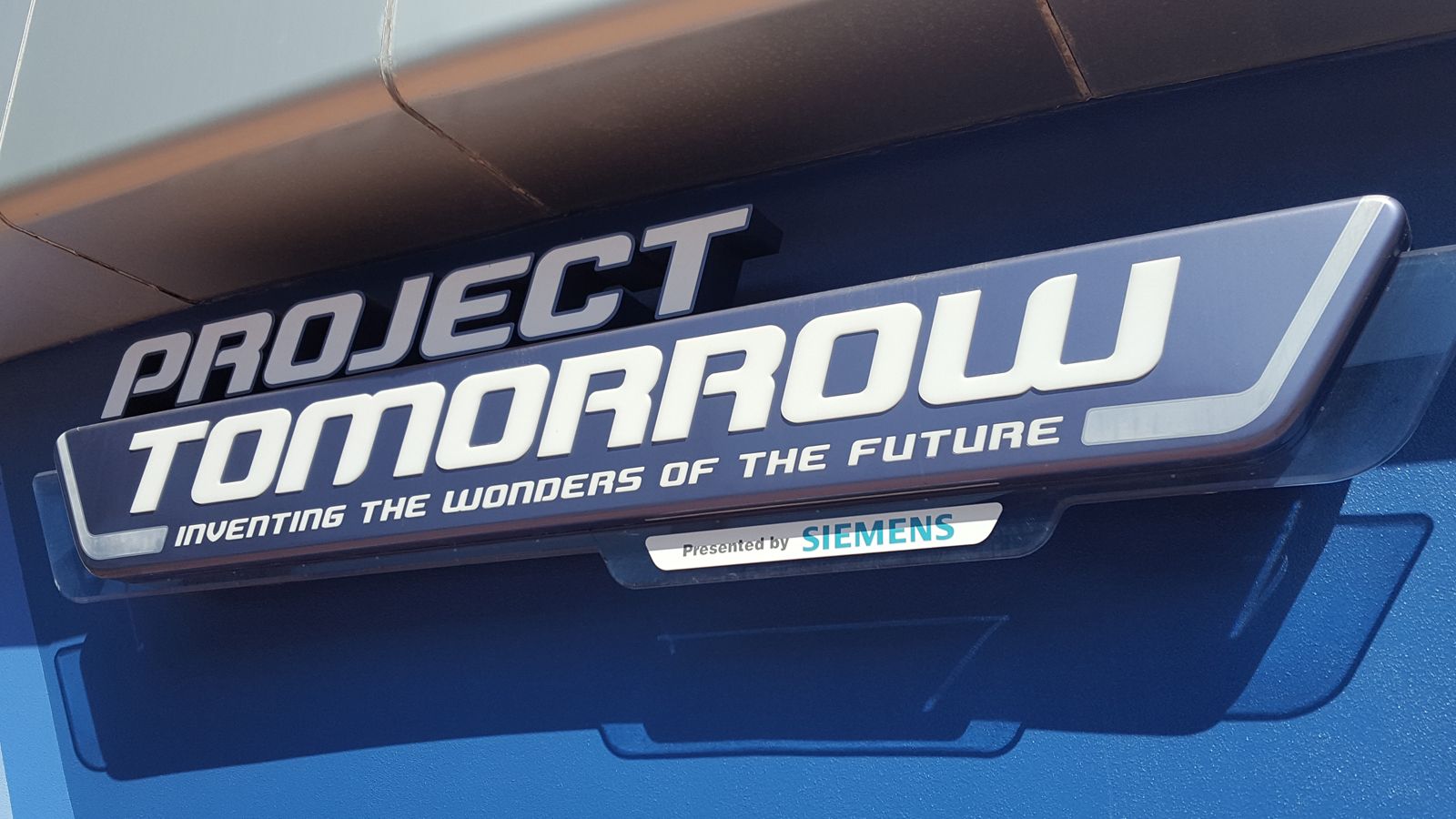 Signs at the entrance and exit to Project Tomorrow. Images source: SpaceKSC.com.
The Disney World web site describes Project Tomorrow:
Disembark from your time travel experience where an emerging world of wonders awaits your arrival. At Project Tomorrow, stick around after your journey through Spaceship Earth reaches its conclusion and find a showcase introducing the latest in high-tech medicine, transportation, energy efficiency and more.
Step inside the interactive area intended for one and all — from kids short and small to adults big and tall — where you're invited to build, create, compete and play with a series of exhibits that bring innovative ideas and brand new technologies to life.
Sounds like +U recruitment testing to me.
The conspiracy clincher is this city of the future conceptual artwork on the wall.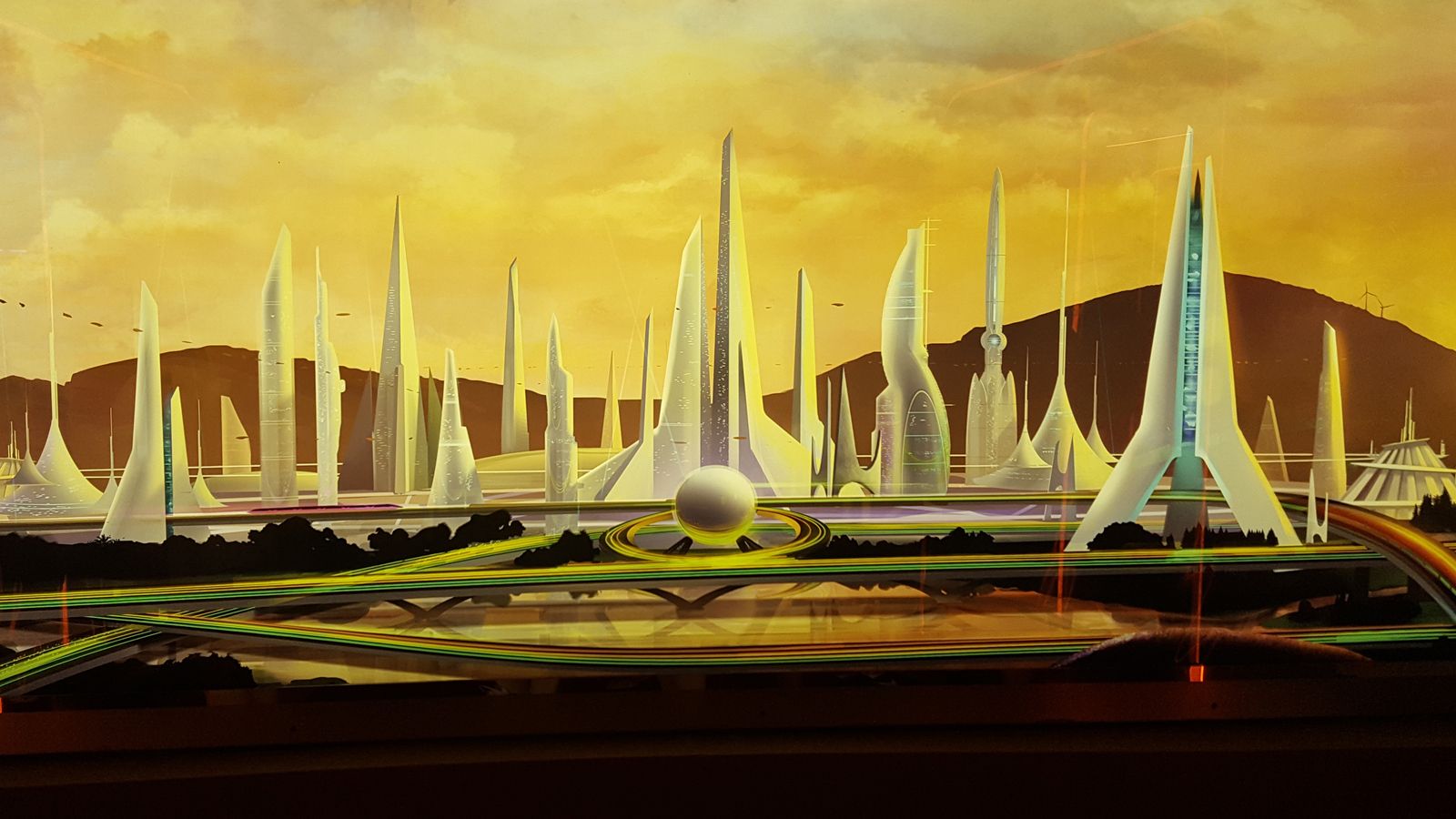 Compare it with this promotional artwork for the Tomorrowland movie.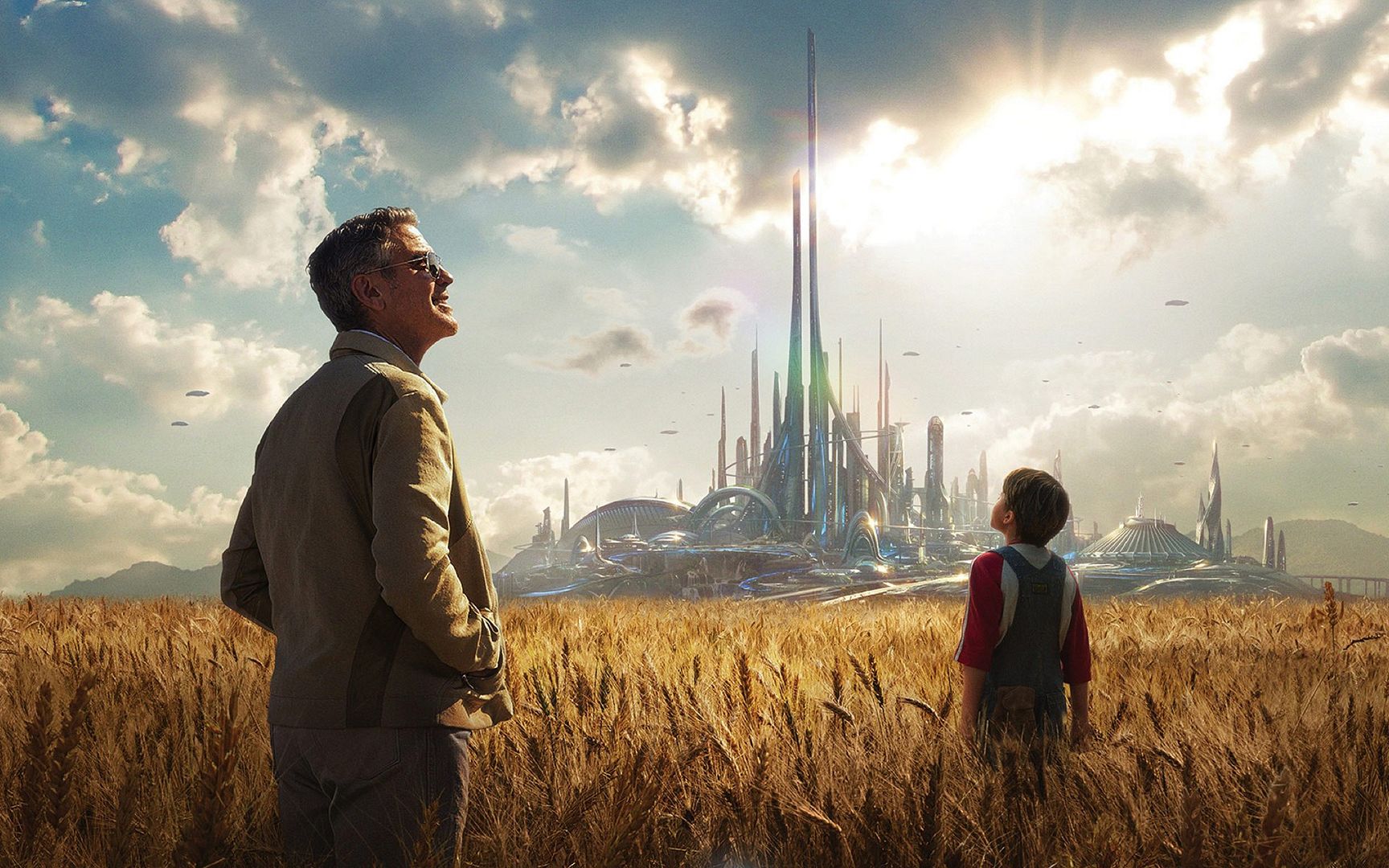 A bit on the nose for a secret society.
And if you want to take the Disney recruitment experience one step further ... Adventures by Disney now offers a tour of Kennedy Space Center led by an astronaut.
For another look of what might have been ...
Click the arrow to watch video of the 2013 alternate reality game "The Optimist" at Anaheim's Disneyland. Video source: Inside the Magic YouTube channel.
During the film's pre-production, director Brad Bird and writer Damon Lindelof pitched to Disney management the idea of using the amusement park as an interactive alternate reality game connected to the film. "Optimists" would explore Disneyland looking for clues that would ultimately lead them to a secret Plus Ultra recruitment meeting. Their reward was to receive a T-pin.
Wouldn't it be fun to do that at Kennedy Space Center?