Click the arrow to watch the Republican convention's Apollo 11 video and Eileen Collins' speech.
I believe program cancellation decisions that are made by bureaucracies behind closed doors without input by the people are divisive, damaging, cowardly, and many times more expensive in the long run.
— Former NASA Astronaut Eileen Collins
House Science Committee Testimony, February 25, 2016
Perhaps our first clue that retired NASA Space Shuttle commander Eileen Collins distorts reality to fit her political ambitions should have been when she uttered these words during her Congressional testimony last February.
Collins was referring to the cancellation of the botched Constellation program. The cancellation was proposed as part of the Obama administration's proposed Fiscal Year 2011 budget submitted to Congress in February 2010.
In her testimony, Collins falsely claimed that the decision was made "behind closed doors without input by the people."
That's clearly untrue.
As it prepared to take office in January 2009, the Obama transition team sought to meet with NASA and Constellation executives to review the project.
The team was stonewalled, as documented by Lori Garver, a member of that team who would later be appointed NASA's first second female deputy administrator.
---
UPDATE July 22, 2016 — Lori Garver contacted me to note that Shana Dale was the first female NASA deputy administrator, appointed by President George W. Bush in September 2005. I've corrected the error.
---
Garver wrote in an April 2016 Space News guest column that her team received "a chilly reception" from NASA executive management when they began inquiring about Constellation, the Ares I booster and the Orion crew capsule. A September 2008 Government Accountability Office (GAO) report had warned:
NASA faces disparate challenges in defining the scope and cost of [Space Shuttle Program (SSP)] transition and retirement activities. Because the Constellation program is still finalizing its requirements, the agency does not yet know the full extent of SSP property it needs to retain or what the full cost of the transition effort will be. In addition, NASA faces other challenges that further hamper the agency's efforts to manage transition activities and develop firm estimates of SSP transition and retirement scope and cost.
That was the latest in a series of poor reviews the Constellation program received from the GAO during the Bush administration.
Garver wrote that, when her team met with a contractor working on an analysis of Constellation, "Our detailed questions were met with nervousness and little eye contact. We later learned that NASA leadership had heard about our planned meeting and preemptively told them not to share the Ares results with us."
Motivated by the lack of cooperation from the outgoing administration, in May 2009 President Obama created the Review of U.S. Human Space Flight Plans Committee. According to the committee's web site, this was to be "an independent review of planned U.S. human space flight activities with the goal of ensuring that the nation is on a vigorous and sustainable path to achieving its boldest aspirations in space."
Contrary to Ms. Collins' false claims, the committee held many meetings in public. Click here for the public meeting schedule. Among the hearing sites were public meetings held in the communities of three space centers — Cocoa Beach, Huntsville and Houston.
(I personally attended the Cocoa Beach hearing.)
If you scroll down on the Meetings page to Public Meetings, you can click on each public meeting to find a link where you can watch for yourself the videos of each meeting.
You can also watch all the final deliberations in August 2009.
Click the arrow to watch retired astronaut Sally Ride's testimony to the committee.
Two retired astronauts were on the committee, Sally Ride and Leroy Chiao.
The committee issued its final report in October 2009. Click here to download the report PDF.
The report began:
The U.S. human spaceflight program appears to be on an unsustainable trajectory. It is perpetuating the perilous practice of pursuing goals that do not match allocated resources.
Committee chair Norm Augustine testified in September 2009 before both houses of Congress to present the group's preliminary findings. Click here to watch his September 15, 2009 testimony to the House Science Committee. Click here to watch his September 16, 2009 testiomony before the Senate Space Subcommittee.
On September 25, 2009, the GAO issued yet another report critical of Constellation. This one warned that Constellation lacked "a sound business case" and had yet to resolve significant design problems.
So the track record is clear that Constellation's many failures were public, as were the reasons for its cancellation.
The irony is that the NASA Administrator in charge of Constellation, Michael Griffin, sat to Collins' right during their February 2016 testimony, giving his own spin on reality.
Ms. Collins' remarks were largely forgotten until the Republican National Committee announced July 14 that she would address the Republican National Convention, where Donald Trump formally would be chosen as the party's presidential nominee.
The insular space advocacy community reacted in social media. Some were delighted that space would have a small voice at the convention. Others were delighted her achievement as the first Space Shuttle commander would give more credibility to Mr. Trump's campaign.
And others, including those critical of Trump's frequent disparaging comments about women, were outraged.
Lori Garver posted a tweet on Twitter that stated:
Shocked Eileen is supporting this anti-science misogynist. Sorry her legacy is now co-opted by self-interested men.
Many tweeters posted their agreement with Garver's view, but retired astronauts Kevin Ford and Clay Anderson attacked the former deputy administrator for criticizing their colleague.
Garver deleted the tweet, but stood by her view that Collins' appearance was inappropriate.
When Ms. Collins spoke last night, she was preceded by a video clip promoting the 47th anniversary of Apollo 11 and the astronaut corps as an example of American exceptionalism.
So when you look to the heavens tonight, take a minute to thank God for each and every one of them. And say an extra prayer that the U.S. will soon reclaim its rightful place as the leader in space exploration.
The invocation of a deity aside, the narrative claims that the United States is not the global leader in space exploration.
In her subsequent remarks, Collins agreed.
In 2011, the Space Shuttle program ended. The last time the United States launched our own astronauts from our own soil was over five years ago. We must do better than that.
What Collins failed to disclose to her audience was that the decision to retire Shuttle was announced in January 2004 by President George W. Bush based on the recommendations of the Columbia Accident Investigation Board. She also failed to disclose that the "gap" during which the United States would rely on Russia for International Space Station access was part of that early 2004 announcement.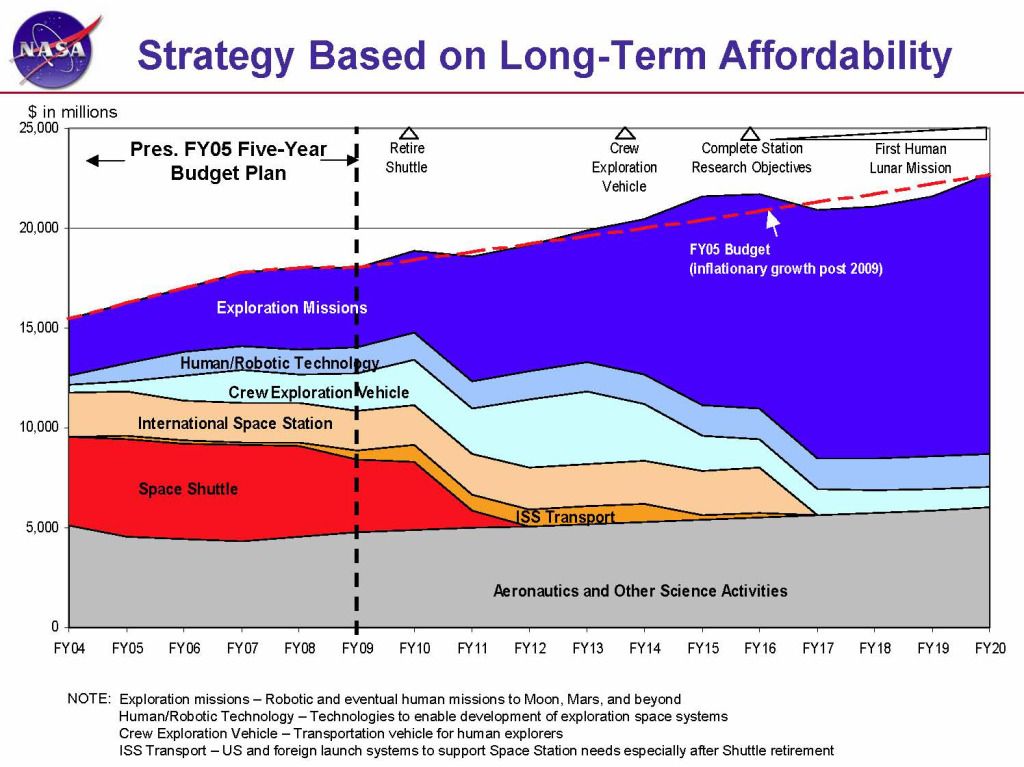 The Vision Sand Chart. Click to view at a larger size. Image source: NASA.
Then-NASA Administrator Sean O'Keefe presented the Vision Sand Chart to the Senate Science Committee on January 28, 2004. It showed a four-year gap between the end of Shuttle and the first flight of the "Crew Exploration Vehicle," which eventually evolved into Orion.
A January 30, 2004 article on Page 1 of Florida Today reported that NASA would use Soyuz for crew rotations through the end of the Shuttle program. The article's headline was, "Shuttle's Role as Taxi May End." The article stated:
Some U.S. astronauts, including current space station commander Michael Foale, said they prefer flying on the Soyuz because it has a crew escape system not present on the Shuttles.
Kennedy Space Center experienced a six-year gap between the final mission of the Apollo era, the Apollo-Soyuz Test Project in 1975, and the first Shuttle flight in April 1981. KSC infrastructure needed to be retooled for the new program.
The same has happened at KSC since Shuttle ended in 2011, but this time center management has had to overhaul infrastructure that in some cases was a half-century old.
For the first time in its history, KSC is now a multi-user spaceport, which means it will never again experience a gap.
Nor did Ms. Collins tell her audience about the commercial crew program, which the Obama administration funded in Fiscal Year 2011 after years of going unfunded by the Bush administration.
If Congress had given the administration the funding it requested, NASA astronauts were scheduled to fly again on U.S. systems by the end of 2015. Congress chose instead to cut Obama's commercial crew funding requests by 62% over Fiscal Years 2011-2013, extending U.S. reliance on Russia by two years. Those cuts were largely bipartisan.
Collins concluded:
We need leadership that will make America's space program first again.
Implicit in that statement is her belief that the United States is not first.
She did not mention by what criteria she comes to that conclusion.
Measured by budgets, NASA's FY16 budget is $19.3 billion.
An accurate number for Russia is hard to come by. One article states that for FY14 it was $4.8 billion. A July 21, 2016 Moscow Times article reports that economic sanctions imposed on Russia for the Ukraine invasion have reduced the nation's ten-year Roscosmos budget commitment to about $20 billion, or about $2 billion per year.
The China space program is murkier, as it's intertwined with military spending. Their technology is improving, but their capability is roughly where the United States was in the 1960s.
Europe, Japan and Canada rely on the United States for ISS transportation, using one American seat out of three in exchange for U.S. use of their ISS laboratories and the Canadian robot arms.
That $19.3 billion NASA number doesn't include the billions of dollars being invested by U.S. industry in commercial space. A January 2016 Tauri Group report found that, "More venture capital ($1.8 billion) was invested in space in 2015 than in the prior 15 years, combined." Private companies SpaceX and Orbital ATK deliver cargo to the ISS using robotic craft that don't risk lives like Ms. Collins' Shuttle did. A third, Sierra Nevada's Dream Chaser, will join the market by the end of the decade.
SpaceX and Boeing are in uncrewed tests with 21st Century craft that will deliver astronauts to ISS from American soil, despite the best efforts of Congress to extend reliance on Russia. The first crewed test flight on paper is a SpaceX Dragon scheduled for August 2017. NASA and SpaceX will partner on a Red Dragon mission to send the capsule on a mission to make a soft landing on Mars. It will be the first crew-rated vehicle to land on Mars.
A SpaceX Falcon 9 first stage lands on the company's drone ship. Video source: SpaceX YouTube channel.
SpaceX has spent 100% of its own money to develop a Falcon 9 booster that can land on a pad or on a drone ship at sea. The Falcon Heavy, three Falcon 9 boosters in tandem, will become the most powerful launch vehicle on the planet.
Bigelow Aerospace, using 100% private investment money, developed a prototype expandable habitat now being tested at ISS. The first full-size B330 modules are being built now in Las Vegas, with the intent of attaching them to ISS circa 2020 for lease to customer nations. These habitats are projected to be the next-generation space stations that will orbit Earth, position at LaGrange points, orbit the Moon and Mars as way stations, and serve as a base on those worlds.
I'm waiting for Ms. Collins to tell me what other nation on Earth has these capabilities.
Neither did Collins mention the Space Launch System, imposed by Congress on NASA as part of the 2010 deal to cancel Constellation. When operational, it will be the most powerful vehicle by thrust on Earth, but Congress failed to tell NASA what to do with it. NASA is still trying to answer that question on its own. Some believe SLS will be too expensive to operate under NASA's projected budgets for the 2020s. But it's a program built the way Collins wants when she testified before Congress in February.
Many believe that Eileen Collins disgraced her legacy by appearing at a four-day event anointing a misogynist as the Republican candidate for President.
Multiple media outlets report that she dropped a line from her speech where she was to endorse Mr. Trump. The Syracuse Post-Standard has a complete text of the prepared speech. It was to have ended:
We need leadership that will challenge every American to ask, "What's next?" We need leadership that will make America's space program first again. We need leadership that will make America first again. That leader is Donald Trump.
Thank you and God bless the United States of America!
The line she reportedly dropped was, "That leader is Donald Trump."
Ms. Collins can explain for herself why she dropped that line.
In my opinion, she owes an apology to President Obama, the members of the Augustine committee, NASA Administrator (and former Shuttle commander) Charlie Bolden, Lori Garver, and the rest of NASA management for calling them cowards.
She also owes a retraction and an apology to the millions of Americans she misled last night.
Collins' speech at best will be a footnote in some future space history book. Historians may note her speech as an example of someone who chose to align herself with the wrong side of future history.
Click the arrow to watch the February 25, 2016 House Science Committee hearing. Collins' remarks begin at the 37 minute 25 second mark.