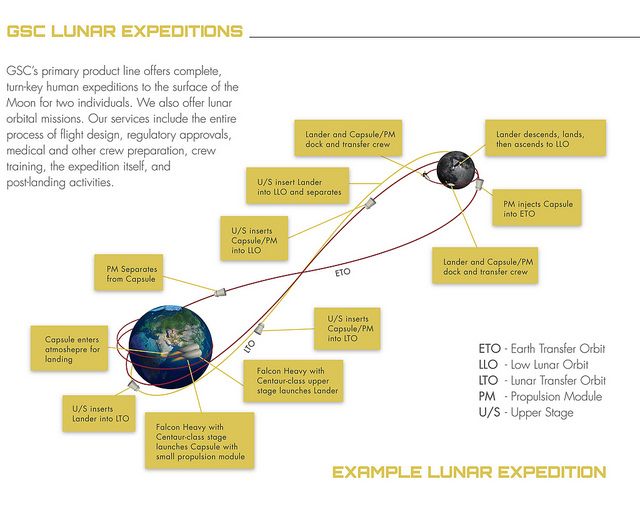 A 2012 concept for a commercial lunar flight to the Moon using a SpaceX crew Dragon on a Falcon Heavy booster. Image source: Golden Spike Company.
In December 2012, former NASA executives announced the formation of a commercial lunar spaceflight enterprise called The Golden Spike Company.
Named after the final spike driven to complete construction of the Transcontinental Railroad, Golden Spike offered to send two customers to the Moon for a circumlunar mission and perhaps a landing.
A notional concept posted on the company's web site depicted a SpaceX Falcon Heavy launching a crew capsule — presumably the SpaceX crew Dragon — to the Moon, where it would orbit and rendezvous with a lunar lander. In January 2013, Golden Spike announced a contract with Northrup Grumman to develop the lander.
By the end of 2014, Golden Spike had gone silent. The company's web site simply states, "Under Construction." The last post on its Facebook page is dated October 13, 2014. The Golden Spike Twitter account is still active, with its last retweet dated February 23, possibly maintained by co-founder Alan Stern, but it has nothing recent about the company's activities.
A Golden Spike promotional video posted December 6, 2012. Video source: Golden Spike YouTube channel.
SpaceX founder Elon Musk announced today that he will be the next one to attempt to drive that golden spike into the track that leads from Earth to the Moon.
According to the SpaceX press release:
We are excited to announce that SpaceX has been approached to fly two private citizens on a trip around the moon late next year. They have already paid a significant deposit to do a moon mission. Like the Apollo astronauts before them, these individuals will travel into space carrying the hopes and dreams of all humankind, driven by the universal human spirit of exploration. We expect to conduct health and fitness tests, as well as begin initial training later this year. Other flight teams have also expressed strong interest and we expect more to follow. Additional information will be released about the flight teams, contingent upon their approval and confirmation of the health and fitness test results.
In a teleconference not available to the public, Musk declined to identify the clients to the media. He also noted the flight will require approval from the Federal Aviation Administration.
Who will train the two crew members was not identified. The logical candidate would be Stinger Ghaffarian Technologies (SGT), Inc., which in 2014 received a nine-year contract to " provide mission and flight crew operations support for the International Space Station and future human space exploration." To quote from the SGT web site:
We prepare the Astronauts and Flight Control Team to achieve mission objectives safely and effectively. This begins with initial requirements development, curriculum design, training product development, and training execution in off-line, computer-based trainers, and high fidelity simulations. We integrate training activities, facilities, and personnel to achieve certification for mission execution.
Axiom Space, founded last year by SGT executives, intends to operate a commercial space station in low Earth orbit. Their web site states, "Axiom Space is the only company in the world equipped to provide NASA-level astronaut training, and all operations required to keep astronauts and tourists safe and productive on orbit."
Since Johnson Space Center eventually should have a SpaceX Dragon crew simulator, SGT seems the likely choice to train these lunar voyagers.
A September 2015 computer animation of the SpaceX crew Dragon in orbit around Earth. Image source: SpaceX YouTube channel.
A remote possibility might be Astronauts4Hire. According to their web site, the non-profit is incorporated in Florida, although their contact address is in Redondo Beach, California. "A4H's principal service is to train its members as professional astronaut candidates who can assist researchers, payload developers, and spaceflight providers with mission planning and operations support," the web site states.
Another dark horse might be Space Adventures, which arranges for private citizens to train on Russian Soyuz simulators.
According to the press release, this private flight will occur after NASA certifies the Dragon for its commercial crew program. On paper, that would occur sometime by the end of 2018.
Today's announcement comes just a few days after NASA announced the agency will study delaying its first Space Launch System test flight so that the Orion capsule and service module can be human-rated to carry two crew members on a mid-2019 circumlunar mission.
Listen to the February 24, 2017 NASA teleconference discussing the 2019 crewed lunar mission study.
The study was directed in response to inquiries from the Trump administration's NASA transition team. It's far from certain at this late date whether human-rating the system would be practical, much less safe. It would delay yet again a mission ordered by Congress in 2010 to launch no later than December 31, 2016.
Training two civilians in a year to be skilled astronauts capable of surviving a circumlunar mission seems like yet another audacious idea from Mr. Musk. It assumes that the Falcon Heavy technology will have matured, as well as the crew Dragon. Perhaps the most audacious assumption is that the FAA will license this.
But significant anniversaries approach for the Apollo program. December 2018 will be the fiftieth anniversary of the Apollo 8 circumlunar mission. July 2019 will be the fiftieth anniversary of Apollo 11 and the first landing of humans on the Moon. Maybe the two customers are motivated by those anniversaries.
In my opinion, this mission will have more credibility once we know who are the customers, who will train them, and we've seen that Falcon Heavy can fly.
But where Golden Spike failed, SpaceX may succeed. Stay tuned.