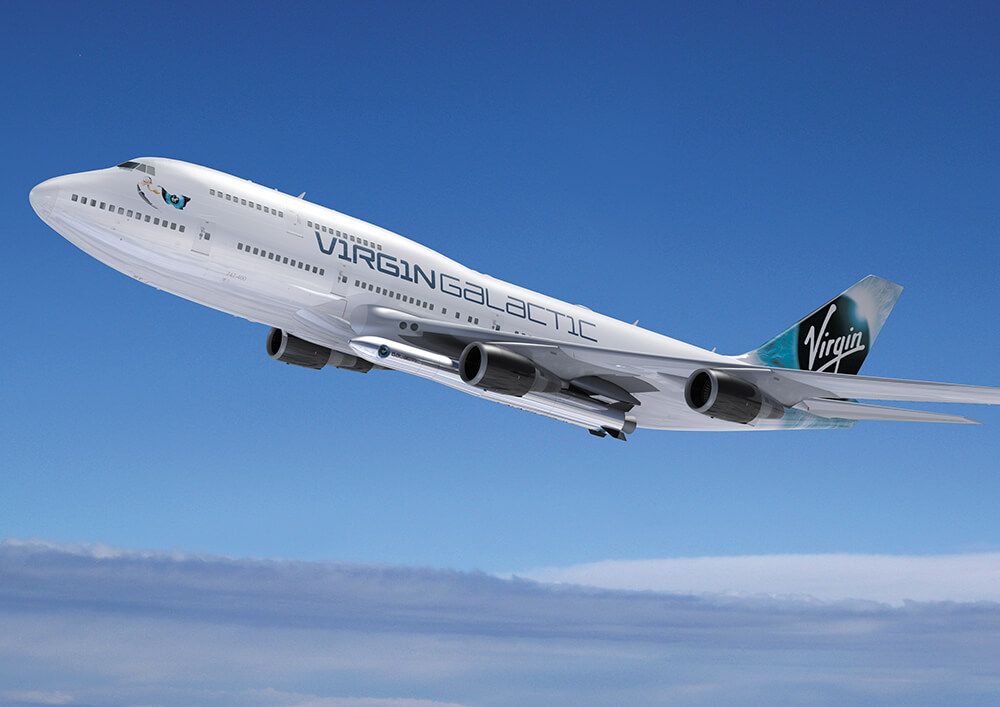 An artist's concept of LauncherOne. Image source: Virgin Galactic.
Virgin Galactic announced today the formation of a company that separates their anticipated satellite launch services from commercial human spaceflight.
Effective today, our family of space companies numbers three. As with before, Virgin Galactic will be our commercial human spaceflight services provider and The Spaceship Company will continue to offer design, manufacturing and testing services to build vehicles for Virgin Galactic. And our small satellite LauncherOne team will become our newest company: Virgin Orbit.
In a separate press release, Virgin stated that the new company "will offer flexible, routine and low cost launch services for small satellites via the LauncherOne system."
The press release states the system "is in advanced phase of hardware testing for every subsystem and major component of the vehicle-having already conducted long duration, full thrust firings of both of LauncherOne's engines, cryogenic tank tests, and hardware-in-the-loop testing of the vehicle's avionics."
A December 2015 LauncherOne promotional video. Video source: Virgin Galactic YouTube channel.
Virgin Orbit will be headquartered in Long Beach, California, but LauncherOne flights may take off from the Space Coast.
In April 2016, small satellite company OneWeb announced that LauncherOne may deploy some of their "microsats" from the former Space Shuttle runway at Kennedy Space Center.
On February 28, OneWeb and Intelsat announced a "conditional combination agreement" that could merge the two companies. Intelsat CEO Stephen Spengler stated in the press release:
We believe that combining Intelsat with OneWeb will create an industry leader unique in its ability to provide affordable broadband anywhere in the world. As an early equity investor in OneWeb, we recognized a network that was a complement to our next-generation Intelsat EpicNG fleet and a fit with our long-term strategy. By merging OneWeb's LEO satellite constellation and innovative technology with our global scale, terrestrial infrastructure and GEO satellite network, we will create advanced solutions that address the need for ubiquitous broadband. The transaction, including SoftBank's investment, will significantly strengthen Intelsat's capital structure and accelerate our ability to unlock new applications, such as connected vehicles, as well as advanced services for our existing customers in the enterprise, wireless infrastructure, mobility, media and government sectors, while also reducing execution and other risks.
In October 2015, NASA awarded $4.7 million to Virgin Galactic to conduct a CubeSat demonstration flight by the end of 2018. Part of NASA's Venture Class Launch Services program, the awards to Virgin and two other companies were intended to "represent NASA's investment in the future of the commercial launch industry for SmallSats," according to the NASA press release.
The viability of the smallsat market was demonstrated February 15 when the Indian Space Research Organization launched 104 satellites into orbit on its PSLV C 37. It was a record for the most satellites placed into orbit with one launch. Most of them were smallsats.
The ISRO mission deploys 88 DoveSats for Planet. Video source: Planet YouTube channel.
Eighty-eight of these were DoveSats from U.S.-based Planet. Formerly known as Planet Labs, the company called it the deployment of "the largest satellite constellation ever to reach orbit." Planet specializes in the collection of data and imagery for its customers.
Former U.S. Senator Dan Coats (R-IN), President Trump's nominee for Director of National Intelligence, expressed his shock that India launched 104 smallsats. He seemed ignorant of the U.S. small launcher market emerging through companies such as Virgin Orbit, Vector Space Systems, Rocket Lab, and Masten Space Systems, among others.
Virgin Orbit hopes to have the first test flight of LauncherOne by the end of 2017. Hopefully Mr. Coats will take note.