An editorial cartoon that appeared on the front page of the Orlando Sentinel on July 18, 1962. Click the image to view at a larger size. Image source: Newspapers.com.
Blue Origin announced on July 1 that Wally Funk will be one of the passengers when the company launches its first crewed spaceflight from Van Horn, Texas. The launch is targeted for July 20, the 52nd anniversary of the Apollo 11 landing.
Funk was one of a group of woman aviators who were invited around 1960 by Dr. William Randolph Lovelace II to undergo some of the same tests taken by the Project Mercury astronaut candidates in late 1958.
Over the decades, Dr. Lovelace's research was largely forgotten until a film producer named James Cross made a documentary about the group, whom he dubbed the "Mercury 13."
According to an October 23, 1998 Orlando Sentinel article:
It was Cross who dubbed the women "The Mercury 13," although they were never actually affiliated with NASA.
The documentary began a mythology that the women were part of a secret NASA program that was stopped by unnamed nefarious forces simply because "they" didn't want to see a woman go to space.
A July 2, 2000 Los Angeles Times article quoted one of the test participants:
Jerri Sloan Truhill of the Mercury 13 group says she'd be happy if NASA would "stop denying the contribution we made and were prepared to make. Instead they treat us as interlopers, invading their space."
The article also quoted test participant Jerrie Cobb:
On Sept. 12, 1961, five days before the women were to report to Pensacola, the tests were canceled. Cobb hopped a plane to Washington, D.C., and banged on doors until she found the chief of naval operations. "He told me," Cobb remembers, "that the tests were canceled because NASA did not want the tests run on women."
No one has ever produced any evidence of a conspiracy to "stop" the so-called Mercury 13 — one reason being there was no "Mercury 13."
A 2018 NASA history office article documents the facts behind the Lovelace program.
Lovelace's Woman in Space Program was a short-lived, privately-funded project testing women pilots for astronaut fitness in the early 1960s. Although nothing concrete resulted, the women who participated have since been recognized as trailblazers, whose ambitions to fly the newest and the fastest craft led them to be among the first American women to gain access to sophisticated aerospace medical tests.
The participants were never together in one place. The tests were typically performed on one or two women at a time, as Lovelace selected test subjects largely from a group of women pilots called the Ninety-Nines. Not all tests were performed on all participants.
The testing ended when Lovelace requested permission to use U.S. Navy equipment at the Naval School of Aviation Medicine in Pensacola, Florida. The testing so far had been at his private clinic in Albuquerque, New Mexico, but now he wanted to use government resources. Since this was private research not funded or requested by a government agency, the request was denied.
No conspiracy.
Trying to force the resumption of testing, Cobb flew to Washington, DC. She finally found a sympathetic ear in Rep. Victor Anfuso (R-NY), who held two days of Congressional hearings in July 1962.
On July 18, 1962, after the first day of the hearings, the Orlando Sentinel ran an editorial cartoon mocking the hearings. Titled, "Congress to Study Woman's Place in Space — They Drive Cars, Don't They?" the cartoon depicted stereotypes of women in that period, including a rocket crash-landed on the Moon.
Three women testified that day — Jacqueline Cochran, a contemporary of Amelia Earhart whose flying bombers for delivery across the Atlantic during World War II led to the creation of the Women Airforce Service Pilots (WASP) program; Jerrie Cobb, who'd in the 1950s also delivered planes; and Janey Hart, a helicopter pilot who was the wife of Senator Phil Hart (D-MI).
The Associated Press report as published in the Boston Globe was headlined, "Blondes Ask Equality for Space Women."
Three blondes argued before a House Space subcommittee that all they needed was the training to join the Mercury astronauts in orbit ...
Miss Cobb, who testifies the same way she flies — with her shoes off — said women are now prevented from becoming astronauts because NASA insists its spacecraft pilots be test pilots — a job limited to men.
NASA astronauts Scott Carpenter (left) and John Glenn testify before Congress on July 18, 1962. Image source: Newspapers.com.
On the second day of the hearings, NASA chief of human space flight George Low, as well as Mercury astronauts John Glenn and Scott Carpenter, testified before the committee.
Low said that six women had applied for the second group of astronauts being selected at that time. According to the Associated Press report, "... none of the six women among 250 applicants for the 5 to 10 new astronauts now being picked met all the stringent age and training requirements."
Low added that the pool of qualified men is more than ample to meet the need for 40 to 50 astronauts who may be used in the next few years.
The article quoted the two astronauts as saying that whomever was chosen had to be a qualified test pilot, regardless of gender.
"The best qualified people, whatever their sex, color or creed, should be picked," Glenn added ...
Carpenter, asked for an opinion about women in space, disagreed with Rep. James G. Fulton, R-Pa., who said space travel is not so much in the experimental stage that women should be barred.
"There are many unknowns," Carpenter said. "I think as many as possible should be eliminated."
Carpenter added that present standards for astronauts are not a matter of protecting women but of protecting the program.
The hearings ended after the second day. No action was taken.
It had been more than a year since President John F. Kennedy, on May 25, 1961, proposed sending a "man" (not a person) to the Moon by the end of the 1960s and returning "him" safely to the earth.
Kennedy proposed what eventually became known as Project Apollo to demonstrate that American technology was superior to the Soviet Union.
At the time of these hearings, the United States and the Soviet Union were waging the Cold War. If Kennedy had not placed a time limit on Apollo — the end of the decade — perhaps the lack of urgency would have permitted more consideration for training women to be test pilots.
But that decision had been made by President Dwight Eisenhower in 1958. According to a NASA history web site:
NASA originally intended to issue a general solicitation of applications for the position of "research astronaut-candidate," and considered that several occupations besides test pilot might qualify. President Eisenhower, however, directed the agency to select its astronauts from the ranks of military test pilots; this would simplify selection, keep out undesirable applicants, and eliminate the need to run security checks on the candidates.
Why were there no female military test pilots in 1958?
During World War II, the U.S. Army Air Forces used women to deliver military aircraft overseas. According to a U.S. Army history web site:
Cochran served as director of WASP and its training division, while [Nancy Harkness] Love was director of the ferrying division. In the 16 months WASP existed, more than 25,000 women applied for training; only 1,879 candidates were accepted. Among them, 1,074 successfully completed the grueling program at Avenger Field — a better "wash-out" rate than 50 percent of male pilot cadets.
Women Airforce Service Pilots during World War II. Image source: U.S. Army.
The WASPs were disbanded in December 1944. General Hap Arnold wrote:
When we needed you, you came through and have served most commendably under very difficult circumstances, but now the war situation has changed and the time has come when your volunteer services are no longer needed. The situation is that if you continue in service, you will be replacing instead of releasing our young men. I know the WASP wouldn't want that. I want you to know that I appreciate your war service and the AAF will miss you ...
Apparently there was only one female military test pilot during World War II.
Ann Baumgartner was a WASP pilot who was assigned to Wright Field Air Base in Dayton, Ohio. She flew various test flights at Dayton. "I was the first woman to fly a jet for nearly 10 years. I also flew some British bombers and the German JU-88," she wrote. But she was turned out with the other WASPs when the program was terminated.
If the military had allowed women to apply for pilot training after World War II, some of them most likely would have qualified as test pilots.
But that's not the fault of NASA, or Project Mercury.
There's no evidence that any of the so-called "Mercury 13" participants had an engineering degree. Although many had extensive flight experience, none of them had test-pilot experience.
Contrast that with the résumés of the Mercury 7. Those pilots typically had engineering degrees, along with years of flying experimental aircraft, and some had combat experience.
Given the opportunity, women could have achieved the same but, for a dangerous rush program that had the highest national priority and international ramifications, military test pilots were the logical choice.
During the hearing, Glenn pointed out that the Lovelace Clinic tests had been only one small part of the astronauts' selection criteria.
In answer to other questions, Glenn said there has been a misunderstanding about the fact that 13 women pilots passed space tests given by the Lovelace Foundation at Albuquerque, N.M. One of them was Jerrie Cobb, a consultant to NASA, who plugged the girls-in-space idea before the subcommittee yesterday.
"They're such a minimum," Glenn explained. "Those tests merely show if anything is wrong with you. As an analogy, my mother could probably pass the pre-season physical exam given the Washington Redskins. But I don't think she could play many games."
The irony is that, while NASA chose military test pilots for its international prestige program, the Soviet Union secretly was recruiting candidates for the first space flight by a woman.
As these hearings were held, the Soviet Union was selecting and training women to be cosmonauts. The Soviet program viewed their spacecraft occupants more as passengers than actual fliers, so the woman recruits didn't have to meet the high standards of the American program. In November 1962, four finalists were given an honorary rank of lieutenant in the Soviet air force.
On June 16, 1963, Valentina Tereshkova launched in Vostok 6 to rendezvous with male cosmonaut Valeri Bykovsky in Vostok 5.
She logged more flight time than all the Mercury missions combined to that point.
The Soviets achieved a propaganda triumph that NASA failed to anticipate because of its fixation on a lunar landing by the end of the 1960s.
By the time the United States landed on the Moon in July 1969, American and Soviet relations were about to enter an era of cooperation and eventually collaboration in space.
Apollo and Soyuz spacecrafts docked in 1975, with crews visiting each other's ships.
The Space Shuttle program opened the ranks of NASA to civilians, and to women. Physicist Sally Ride became the first American woman to launch into space in June 1983.
In 1975, Captain Jane Holley became the first woman to graduate from the Edwards Air Force Base test pilot school, as a flight test engineer.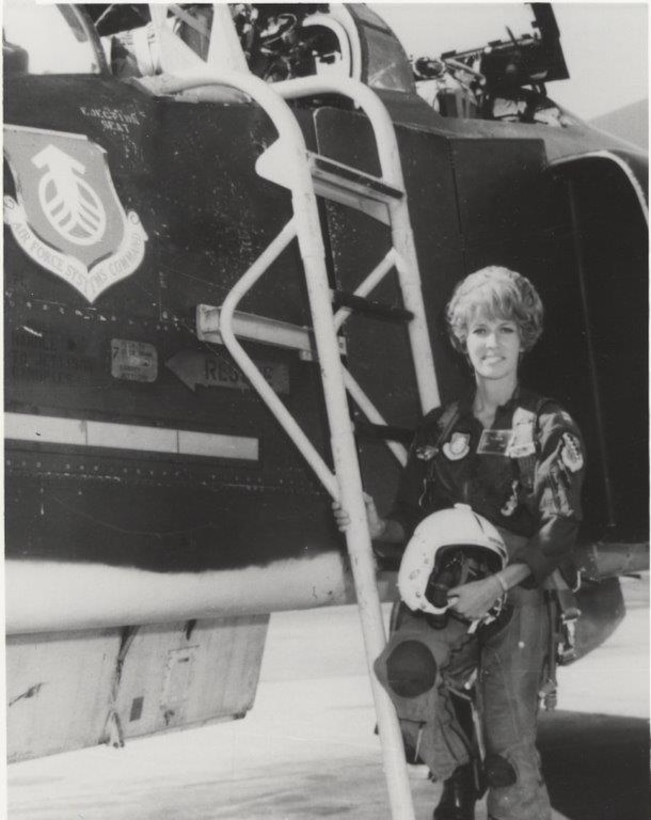 Capt. Jane L. Holley, the first female graduate of U.S. Air Force Test Pilot School. Image source: Air Force Test Center History Office.
In 1990, Eileen Collins was selected by NASA after graduating the Edwards test pilot program. She flew four Space Shuttle flights, commanding the last two, becoming the first woman to command a Space Shuttle mission.
Once the wrong had been righted, women proved they could be military test pilots and NASA astronauts.
Just don't buy into the mythology that some grand conspiracy existed within NASA to stop them from flying in the 1960s.
If you are told this myth, reply with the truth. It's far more compelling.